Samsung ATIV Smart PC 500T | TechTree.com
Samsung ATIV Smart PC 500T
Too big for a tablet and too small for a laptop. How does Samsung's attempt at device convergence work?
Rating

3.5
/5
22nd Feb 2013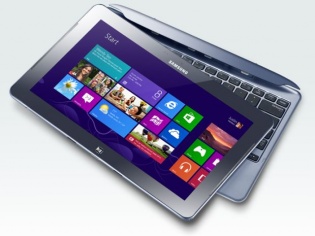 Pros:
Portable; Responsive screen; Long battery life.
Cons:
Slows down while multitasking; Faint-sounding speakers; Scarce hard drive space for user.
MRP: Rs 54,000
The ATIV range by Samsung includes tablet PCs and smartphones running Windows 8 and Windows Phone 8 respectively. Samsung announced this line up late last year, and now that some of these have hit the market in India, we picked the ATIV Smart PC 500T to review. It is a hybrid device - primarily a 11.6" inch tablet, which can turn into a netbook when attached to a keyboard that is part of the bundle.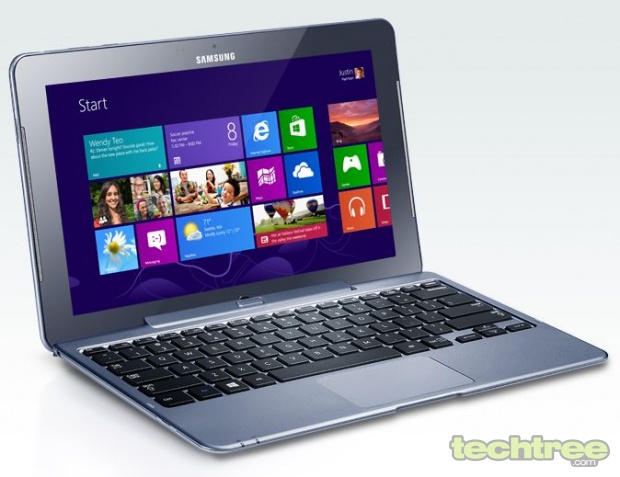 Design And Features
The ATIV Smart PC is effectively a standalone tablet with all the essential computing hardware inside the screen. The keyboard, in this case is just an accessory that is bundled along. Unfortunately, the keyboard accessory does not include an additional battery [the recently reviewed Acer Iconia W510 does, thus nearly doubling the battery life]. The device sports rounded edges, very much reminiscent of Samsung's design that can be seen in its other smartphones and tablets, so there is nothing new here. It comes in Mystic Blue colour, (which looks more grey than blue, in my opinion) and in white colour options. The exterior seems quite resistant to scratches and fingerprints. The device creaks quite a bit, suggesting that the build may not be quite as good as other such devices.
When attached to the keyboard, the hinge allows the screen to open up to 120 degrees, which is just right to use such a device. The hinge is smooth, but it doesn't have enough friction to hold the screen at a particular angle. Thus, if the screen is at an angle of less than 90 degrees to the keyboard, it tends to close owing to its own weight. It weighs 1.45 kg, which is in the range of a normal netbook's weight. The tablet (without the keyboard) weighs 0.744 kg and is less than a centimeter thick.
The keys are of island type and seem to be well spaced out for ergonomics, but are not backlit though. The cursor keys (arrow keys) are not tall, but they are wide, so can be easily handled, unlike the tiny keys found in quite a few models these days. The touchpad has a nice feel, and is of average size and is located at dead centre, thus increasing chances of inadvertent inputs from the palm of the right hand. As has become increasingly common these days, the mouse buttons are not demarcated and are concealed under the lower portion of the touchpad.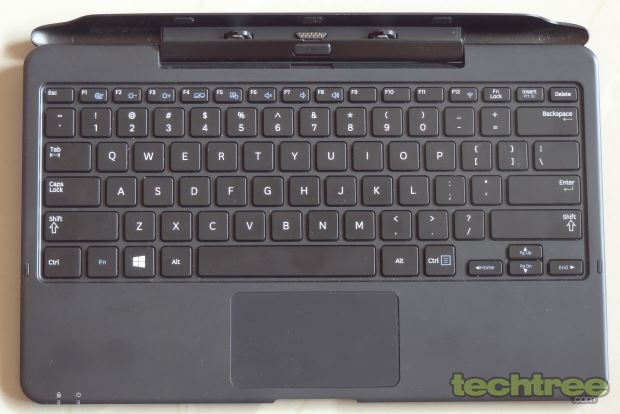 The display is 11.6" diagonal with pixel dimension of 1366x768 and is 5-point multi-touch capable. The bezels are 0.9" wide and this goes well with Windows 8 as they make sure that the user doesn't inadvertently activate the edge controls of this OS (such as the Charms). A physical Windows key is present at the centre of the bottom bezel, although it is almost completely inaccessible in the docked mode (when used as netbook). Two speakers are built into the right and left bezels and are covered by a grill.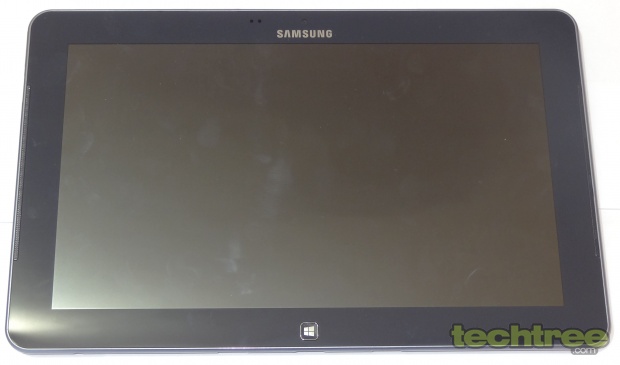 An 8 mp camera with LED flash is present at the rear, while a 2 mp front camera is situated at the centre of the top bezel to facilitate video chat. A digital pen is also embedded in the tablet to be used as an input device. Coming to the ports on the tablet, there is an HDMI port on the right to take the visuals to a big screen. A volume control rocker is situated adjacent to it.
On the hardware front, the 500T is powered by a dual-core Hyperthreaded Intel Atom Z2760 CPU clocked at 1.8 GHz, also known as Clover Trail. This is a 32-bit CPU, which means only 32-bit version of Windows 8 can be installed and you can only have up to 4 GB of RAM, because only 3.2 GB can be accessed. A 64 GB SSD is present inside, of which, only about 34 GB is available for the user. Windows 8 Pro 32-bit version is installed on the device.
Performance
The Smart PC boots up in around 18 seconds after the power button is pressed, which is not as fast as the 8-second boot-up time that we have usually come to associate with SSD-based Windows 8 notebooks. The overall performance is brisk even with an antivirus installed and running in the background. The screen itself has excellent touch response in the modern UI, but there is a distinct lag and you feel as if you need efforts to drag things around, when in the desktop mode, which speaks more about the processor-RAM combo than about the screen.
The screen is not very bright even at the brightest setting. This lack of brightness, coupled with its glossy finish, makes it very difficult to view outdoors and in bright environments. The viewing angles are not great, but they are not bad either, for a non-IPS panel. However, this doesn't hurt much for such a small screen size that will be most likely viewed by just one person at a time.
While the keyboard is of the same size as that of a netbook, it has been ergonomically designed; touchpad is also very responsive and pretty much accurate.
Multimedia: It easily plays 1080p movies without any stuttering. The speakers are a big let down. The audio so faint that you will require headphones even when listening to them in a quiet environment. You cannot go beyond light gaming on this tablet, and that is not its forte anyway.
We conducted a few synthetic benchmarks to find out how the Samsung ATIV Smart PC performs.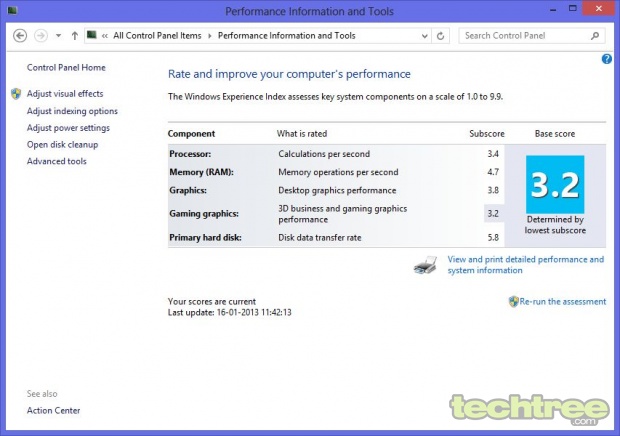 Windows Experience Index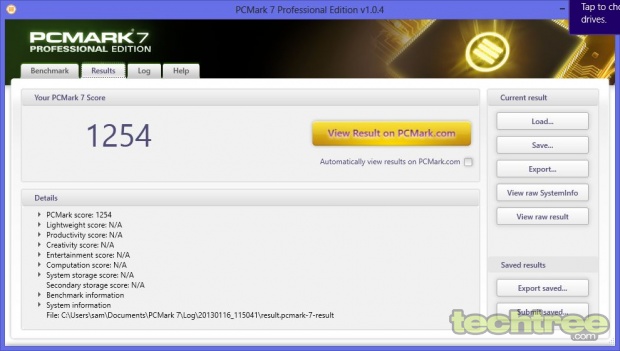 PCMark 7 score
The benchmark results indicate clearly that the ATIV Smart PC performs quite well for an Atom tablet. It is easy to deduce that the device is perfectly capable of handling office tasks as well as multimedia, and casual gaming.
Battery Life
We measured the battery life using Battery Eater Pro and by actually using the laptop with the Performance power scheme of Windows 8. The two tests run in Battery Eater Pro utility are the Reader's test which simulates real-world reading scenario, while the Classic test uses OpenGL rendering to simulate heavy usage such as gaming.
Intel does seem to have got an answer for ARM CPUs (which are known for low power consumption). The battery backup time obtained for the Reader's test was of around 12 hours 30 minutes, while the Classic test result was good too, at a little over 6 hours. In normal usage that involves using office applications, surfing the internet, occasional music and video, and the battery lasted for over 10 hours, which is an excellent backup time if you want to take it around. Now, if only the keyboard dock had included an additional battery, the Samsung ATIV might have set some records on the battery life front.
The Verdict
The Samsung ATIV Smart PC is a good Windows 8 tablet with a convertible form factor. Despite its Atom processor, it performs quite well and is good for work at home or office. Of course, increasing the workload does make it a little sluggish. With a screen size of 11.6" and 700+ grammes weight, it might be too big to be used as a portable tablet, but it works rather well as a netbook weighing 1.3 kg. It looks similar to many of Samsung's tablets and mobiles as far as the tablet design is concerned, and that can be a good thing or a bad thing, depending on the user's view. Although there is a 64 GB SSD, there's just hardly 34 GB free space available for the user and this might need to be augmented via microSD card. The battery life is good and Intel has done a good job with the CPU that competes favourably against ARM variants. Priced at Rs 54,000, this is more expensive than the better-looking Acer ICONIA W510 that comes with a slightly smaller 10.6" screen, but a better battery life, thanks to additional battery in the keyboard dock.
Build And Design: 3.5/5
Features: 3.5/5
Performance: 3.5/5
Value For Money: 3/5
Mojo: 3/5
Overall Rating: 3.5/5
TAGS: Reviews, Tablets, Samsung, ATIV