Review: Panasonic Lumix DMC-TZ20
Powerful travel-zoom with exceptionally good colour reproduction.
Rating

3.5
/5
21st Nov 2011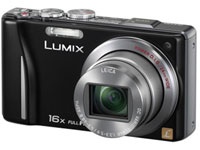 Pros:
Good overall image quality; Excellent colour reproduction; Plenty of options to control; Compact and lightweight; Good image stabilization; 16x optical zoom.
Cons:
Image contains some noise; No manual focus; GPS is sometimes unresponsive; 3D photo shooting is a gimmicky feature.
Panasonic Lumix DMC-TZ20
MRP: Rs 18,000
Street Price: Rs 15,600 (Flipkart.com); Rs 16,500 (Letsbuy.com); Rs 18,000 (eBay.in; Indiaplaza.com)

Not everyone wants to lug around a large and heavy, feature-rich camera and not everyone wants to settle for a compact camera which drastically cuts down on features. Panasonic seems to have sensed this situation when it launched the Lumix DMC-TZ7 a couple of years ago and the DMC-TZ10 last year. Continuing with this tradition, the company has now launched a successor with the DMC-TZ20 to provide a good combination of features and portability. This new compact travel zoom camera features overhauled feature set including 16x optical zoom, 1080p movie capture with stereo sound, and 3D photo mode, along with touch screen functionality. It also features what the company calls a 14.1 MP MOS sensor, which can shoot high speed movies as well as full resolution movies at 10 fps. It also has an optimised digital zoom mode, where the camera works to produce better image with digital zoom. A new and improved image stabilisation mechanism known as Power O.I.S. is also present in this camera. An inbuilt GPS receiver with a built-in database of over 5,00,000 landmarks, reassures its travel zoom categorisation.
The Panasonic Lumix DMC-TZ20.
Bundle
Panasonic Lumix DMC-TZ20
Battery
USB 2.0 cable
A/V cable
Battery charger with two power cords
Wrist strap
Manual
Software disc

While Panasonic does not provide any memory card with the camera, you are likely to get one when you buy from one of the online shops mentioned at the start of the article.

Design And Features
The Panasonic Lumix DMC-TZ20 is a compact and slim camera with a solid body made from a combination of polymer and metal, which feels very strong and sturdy. It is not heavy, so you can easily hold it for shooting for a long time without experiencing fatigue. Since it contains a single flat proprietary battery, the right hand grip is relatively small and comfortable to hold. The camera is made with the right-handed photographer in mind, so most almost all functions are located to the right. A wrist strap can be attached to the camera, which is useful for carrying it around.

The TZ20 sports the f/3.3-f/5.9 Leica lens with a 24 mm wide viewing angle to capture nice landscapes. It comes with a solid 16x optical zoom in the compact body. Just to the left (from the front) of the lens, near the top, is the flash. The location of the flash is such that it tends to get covered by your fingers when you try to click a photo. An autofocus sensor is present to the right of the lens to gauge distance of the subject to focus the lens. That's about all that is there at the front, now let us take a look at the top.
As noted before, this camera includes a GPS receiver, which is housed in the square protrusion at the top marked with the letters GPS. A green LED indicator is present near one of its corners to indicate the status of the GPS. To the left of this protrusion, there is the speaker to play audio from the recorded contents, while to the right there are two small sieves for left and right microphones for stereo recording of audio.

A mode dial is present at the top, just like it used to be in quite a few of older generation cameras. There are several settings in here to take care of all your shooting requirements. One of the modes is Intelligent Auto (iA), which is just like the Auto mode in a standard digital camera, where you do not have to fiddle with any settings and the camera decides them for you. Then there is the Scene mode, where you can choose from amongst 30 preset scene modes to shoot.

Aperture priority mode allows you to set the aperture from F3.3 to F6.3, while the shutter speed can be set from 1/4000 second to 8 seconds. Manual mode lets you completely control the camera. This camera also allows you to store two preferential scene modes in My Scene Mode 1 and 2, also situated on this mode dial. Custom mode option has three slots to store different preferential shooting settings in the camera for easy recall when needed. This comes handy when you want to quickly switch to your personal preset shooting mode. With everyone embracing 3D, this camera also has a mode to shoot 3D still images.

Next, there is the comfortably large shutter button with a zoom ring around it. The power switch is the last button on top. Rather unconventionally, the power button is a sliding mechanical switch, rather than a digital one as is usually found in most cameras and is therefore more prone to wear and tear, and we assume this may result in a lower lifetime. There is also a small red dedicated video record button for video capture making it unnecessary to change modes to make movies, in addition to saving time and making it convenient.


The TZ20 has a bright and crisp 3" colour LCD touch screen display with a wide viewing angle. Several camera control buttons are situated on its right. A mechanical sliding switch to switch between live (during shooting) and playback (to view captured photos and videos) viewing modes is present near the top. Besides this switch, there is a thumb-rest to place your thumb while holding the camera. The Exposure button besides this switch, although marked as such, is actually the function button, which lets you access different functions (such as aperture, shutter speed, etc) depending on the current mode of the camera. Below this, you can see a D-pad control to set Exposure Value, delayed shutter trigger, Macro mode, Flash ON/OFF and a MENU/SET button at the centre to set these functions. The Display button at the bottom lets you set the amount of information displayed on the LCD, in addition to doubling up for other functions inside the menu. The frequently used functions can be quickly accessed using the Quick Menu (Q. Menu) button. Numerous controls are available via the touch screen, but none are exclusive to this interface. You can control everything from the provided physical controls, reducing the touch screen functionality to just an additional gimmick.


The camera can be connected to an HDTV using the mini-HDMI port situated on one side. Just besides this port, there is an AV Out port to connect the camera to an analogue television. The battery compartment is present below the camera as you can see in the above picture and it is covered by a lockable door. The SD memory card slot is present in the same compartment and accepts SD HC memory cards too. A threaded tripod adapter is also present near the centre and since it is made of metal, it will last longer than one made of plastic.

Performance
The camera attains the ready to shoot mode in around 3 seconds. Shot-to-shot timing was found to be 1.1 sec without flash and 2.4 sec with flash. We must also state here that the camera comes with a burst mode at an incredible 40 (at 3 MP) and 60 fps (at 2.5 MP). The TZ20 has a 14.0 MP CCD with a sensor size of 1/2.33 inch. This is a multi-aspect CCD, meaning that you can opt to shoot in either 4:3, or 16:10 aspect ratio, depending on the resolution.

This camera comes with powerful 16x optical zoom.

Photo without zoom
Photo with 16x optical zoom.
Thanks to the Power O.I.S. (optical image stabilisation), you no longer need to worry about having shaky hands. This camera also supports a feature called Intelligent Resolution Technology and Intelligent Zoom, which tries with some success, to improve the photo quality by sharpening and boosting details when using a combination of optical and digital zoom, giving an effective 21x.


5-Rupee coin shot from a distance of 3 cm with an exposure of 1/80 sec at ISO 100 in daylight.
A cropped full size part of the previous photo shows the details captured by the camera.
With the macro mode, you can shoot subjects as close as 3 cm from the lens with auto-focus.


This photo of a insect and leaf was shot from a distance of 3 cm with an exposure of 1/500 sec at ISO 100 in normal daylight.
A cropped full size part of the previous photo shows the details captured by the camera.
As you can see, a good amount of detail is captured, but it was found to be difficult to achieve absolutely sharp focus.

We took photos in the dark to find out the low light performance of this camera. We took one photo in the Handheld Night Shot mode, while the other in the Intelligent Auto mode. Needless to say, ISO value, aperture value, shutter speed, exposure value, etc were automatic.


Photo taken using Handheld Night Shot mode at ISO 800 with a shutter speed of 1/4 second.
Photo taken using Intelligent Auto mode at ISO 800 with a shutter speed of 1/4 second.
While the camera raises the ISO level and lowers the shutter speed in dark conditions in Intelligent Auto mode, 10 consecutive photos are taken in the Handheld Night Shot mode and combined into one photo. It can be deduced from the above photographs taken at similar ISO values and shutter speeds, that the Handheld Night Shot captures more colour and appears warmer, while it loses out on details as a side-effect of noise reduction. The photo taken using the Intelligent Auto mode has a fair amount of graininess. Keep in mind that the Handheld Night Shot mode can only be used on stationary subjects.

ISO sensitivity modes of 100, 200, 400, 800, 1600 can be selected in addition to the Auto ISO mode. In general, you get good results up to ISO 400, but noise increases noticeably with anything above that, especially in dark shooting conditions.


Test ISO image.
ISO 100
ISO 200
ISO 400
ISO 800
ISO 1600
You can see that the sharpness decreases and noise increases as the ISO value is increased. In general, the noise level is a problem with this camera. Noise appears even at ISO 100, which should ideally be noise-free. It is comparatively inferior to its predecessor the DMC-TZ10 in this respect.

One of the cons of this camera is that it lacks a full automatic mode. Even in the Program AE mode, you can neither select the shutter speed nor can you select the aperture size. You cannot even manually focus the lens and have to completely depend on one of the many types of auto-focus modes. These don't always work as intended and you might want to use manual focus to shoot a subject which is, as an example, behind a glass pane, while the camera still tries to focus on the glass pane rather than the subject.

Fringing and chromatic aberration is very noticeable in this 100% cropped photograph section taken at 16x optical zoom.

3D shooting mode lets you click 3D photos by clicking the shutter and moving the camera from left to right. This technique has been used because the camera has a single lens to shoot for the left and the right eye. The 3D photos cannot be viewed on the camera display, but you can connect the camera to a 3D TV to view them. If the TV is a Panasonic VIERA, you can control the playback using the TVs remote via VIERALink. The 3D results were found to be not convincing. However, a lot of practice with the shooting technique can get you better results.

As noted earlier, the camera supports recording full HD video. Movies are recorded in 1080p at 30 FPS in AVCHD and MP4 formats. You can even choose different scene modes during video shooting. Video quality is good with natural colours and crisp picture quality and sounds. The channel separation between audio channels is surprisingly good even though the microphones are placed so close to each other. Autofocus and optical zoom functions work even during video shooting. Zooming is silent during shooting so you will not hear the zoom motor make any noise.

One of the distinguishing features of this camera is the GPS receiver in it. The receiver can be turned on or off by the user to conserve battery. When we tried to use the GPS, it did not work for most of the times we used it. When it did not work, we tried to get it to work using the Info function, but it would not detect a single satellite in the sky.

There are other notable features such as Smile Shutter, which detects the subject s smile and clicks photo automatically at the right moment. Face Detection can detect up to ten individual faces in a scene and make appropriate settings to get the best shot. Red-Eye removal eliminates that issue in photos. The good thing is that you have the option to save the original as well as the fixed photo, just in case.

Focusing is quick and the different types of focusing options let you choose how the autofocus would work. As mentioned earlier, the problem with the camera is that you cannot focus manually, but have to rely on auto-focus and there were times when the camera simply refused to focus where we wanted it to focus, and that left us wishing for manual focus.

Overall, the image quality is good. The colours are not too saturated and seem to be just right, rather than being vivid and noise levels have been kept low. The focusing is not always accurate, especially when there is not enough lighting, but it is fast whenever it works well. The camera is very easy to use, so anyone without a photography background can easily master it in minutes. While the touch screen functionality proves to be useful while previewing images, it actually affects the usability in a bad way while shooting because you inadvertently tend to touch the screen resulting in undesirable results. There should have been some way to lock the touch functionality if the user so desires. The battery takes around 2 hours to charge and is supposed to last for around 300 shots according to the spec sheet. If you use GPS, the battery drains really fast and will provide you less than a third of that backup time.

The Verdict
The Panasonic Lumix DMC-TZ20 is an excellent slim 14.1 MP camera with an optical zoom of 16x, which should be more than enough for most. The Power O.I.S. really helps steady the camera while shooting. Ergonomically, the camera is good, but the touch screen can be bothersome when you inadvertently touch it while shooting and get undesirable results. Image quality is good, with natural colours retained, though small amount of fringing exists along with noise at all ISO levels. The same goes for the 1080p HD video recording with stereo sound. Macro mode allows you to take sharp photos of subjects as close as 3 cm from the lens. You can store two of your own settings for shooting modes by using MS1 and MS2 preset modes. If these are not enough, you can store three custom settings as well. Manual mode lets you set your own custom settings and is for those who are not satisfied with the camera on autopilot.

One of the cons of the camera is that it does not manual focus, thus you have to depend on the autofocus of the camera at all times. The problem is that autofocus doesn't work well all the time and there are times when you really need manual focus. The GPS feature seems to be gimmicky at best and we had a hard time trying to get it to work. Last but not the least, the 3D photo shooting feature is not very convincing unless you practice really hard to get it right.

The Panasonic Lumix DMC-TZ20 comes with a price tag of Rs 18,000, which is a bit high when you consider that its competitor Sony DSC-HX9V costs less with similar features and better performance.

Design And Build: 4/5
Features: 4/5
Ease Of Use And Ergonomics: 3.5/5
Performance: 3.5/5
MoJo: 3/5

Overall Rating: 3.5/5
TAGS: Cameras, Panasonic, Lumix, Jayesh