AKAI Smart Box | TechTree.com
AKAI Smart Box
Android-based media player without a remote control. Can other features help the device redeem itself?
Rating

3
/5
22nd Feb 2013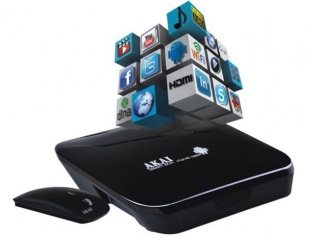 Pros:
Plays 1080p movies in multiple formats flawlessly; Four USB ports; Wireless mouse; Fully supports Google Play store to install apps and games; Supports DLNA.
Cons:
Very sluggish interface; No remote control; Comes with old Gingerbread; Lacks power button.
AKAI Smart Box
MRP: Rs 7000
Android may be most known for powering mobile phones and tablets, but it is also an extremely versatile operating system that can power other devices - mostly entertainment ones. When you consider the fact that Andorid mobiles and tablets manage to play back a variety of media, limited only by their hardware, it suddenly seems obvious that manufacturers would use this free operating system to make media playback devices. AKAI's Android 2.3 (Gingerbread) based Smart Box media player claims to convert your 'ordinary' TV into a 'smart' one. While there is no single definition of smartness in a TV, for the purposes of this review, I'll that the ability to connect to the Internet and play streaming content is 'smart'.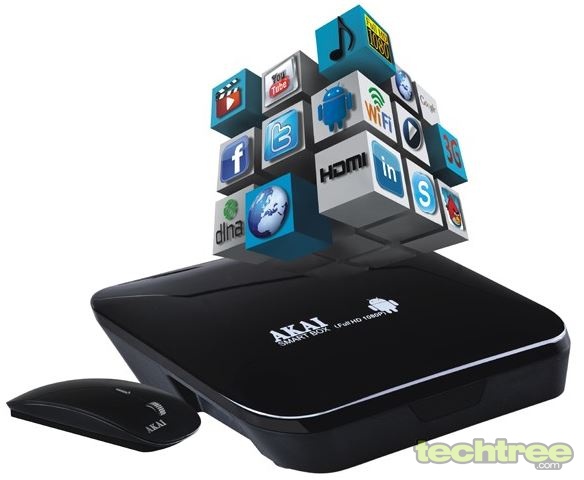 Design And Features
The Smart Box is housed in a black rectangular polymer box with a curved upper surface. The surface has a glossy finish and therefore easily attracts dust and fingerprints. The construction appears to be sturdy. Four rubber feet are present underneath to keep it firmly grounded, and there are several heat vents to let it run cool.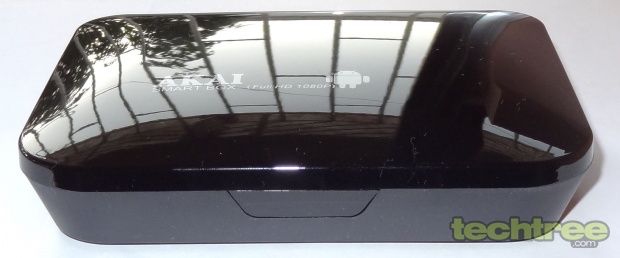 The first noticeable thing is that there is no physical button on the unit — not even a power button, so we guess you will have to switch off at the wall socket to power it off. There is a translucent window at the front, which houses a blue LED that indicates power. An SD/MC/MMC card slot is present on the right that is useful as you can simply plug in your memory card from the camera and view photos and videos. Memory cards up to 32 GB are supported.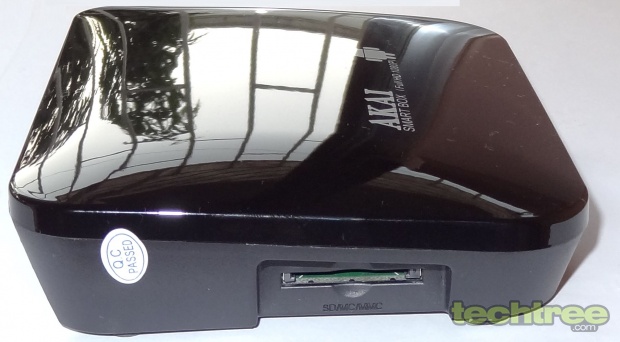 Most of the ports are present on the rear of the device. These include an HDMI port to connect to HDTVs and other compatible display devices, and an AV-Out (composite) port to output to display devices supporting this older analogue interface. AKAI has been sensible enough to bundle along an HDMI cable and AV cable. Though these are not expensive, they make the package look complete.

There are four USB 2.0 ports that can work simultaneously with connected storage devices devices. While you may not be actually connecting more than one external storage device at a time, you can certainly have free ports to connect other PC peripherals such as a keyboard or a USB dongle for internet access. A 3.5mm microphone + headphone socket is provided at the back for voice chat using VoIP apps such as Skype. In addition to using USB dongles, internet connectivity is also possible via in-built Wi-Fi and Ethernet port.
The Smart Box comes with a slim mouse in place of a proper remote control. This is in fact a wireless mouse, which requires a tiny dongle to remain attached to one of the four USB ports in order to use it. It works on radio frequency (RF), so it doesn't require direct line of sight to work. Strangely, you are required to switch the mouse on via a small power switch on its underside, after the Smart Box boots up completely because if it is already switched on, the mouse doesn't get detected.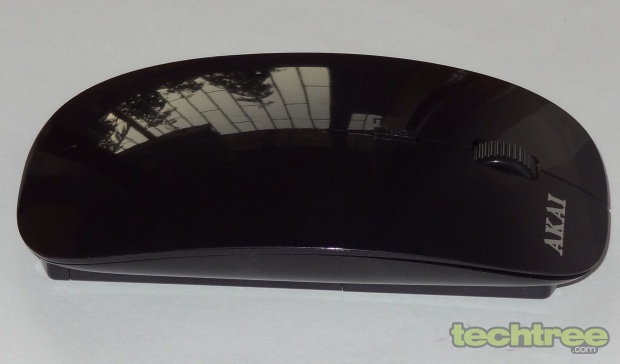 Coming to the specifications, the Smart Box runs the dated Android 2.3.1 (Gingerbread). The device is powered by an ARM Cortex A8 1.25 GHz CPU with 1 GB of RAM and has 4 GB of internal storage. Basically, this internal storage is only useful to install apps from Google Play store and almost half of it is occupied by the Android OS itself.
Performance
Since it has no power button the only way to power on the unit is by plugging it into the wall socket. It takes around 35 seconds to boot up, which is not bad, but still not quite as good as media players such as the Amkette Flash TV HD that switches on almost instantly. AKAI uses a custom skin for Gingerbread and that may probably be the reason why the mouse stutters terribly, making it a nightmare to do anything.
The customised home screen has the following icons in a row at the bottom: Browser, App World, Games, Mail & IM, Multimedia, and Utility & Setup. There are a few in-built apps and a couple of games (Angry Birds and Fruit Ninja), but you can always install more apps from Google Play.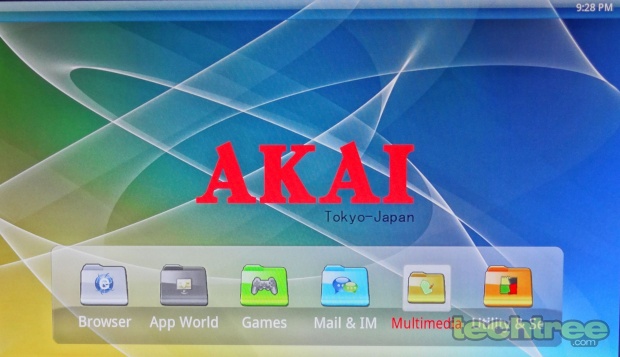 Media playback is taken care of by the stock Android media player that can handle most of the popular video, audio, and picture file formats. Thanks to the multiple USB ports, you can connect and access several external storage devices at a time. The on-screen controls are similar to what you see in media players on Android phones and tablets. Media playback is flawless at 720p as well as 1080p at 50 and 60 Hz. Subtitles are supported in several different file formats. The good thing about Android media players is that you can install your favourite media player to and get additional support for file formats not supported by the stock player. Expandability wise, we tested and confirm that it works even with a 2 TB hard drive without any problem.
DLNA is supported and this functionality is listed as eHomeMedia app. DLNA enables streaming of video and audio files from one device to another over local networks (such as in a home). Thus, you can watch videos and listen to music on your DLNA enabled mobile phone, tablet, or TV from the media files present on storage devices connected to and shared via the Smart Box. This is where the extra USB ports become useful.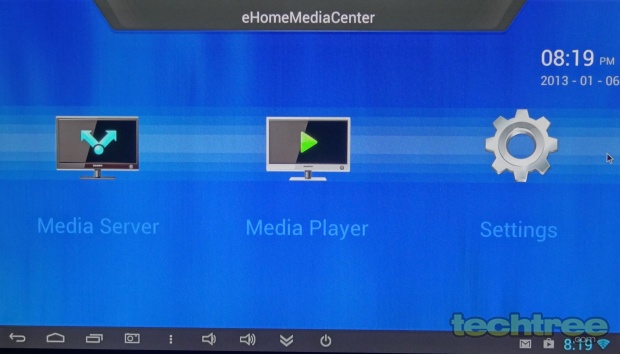 Gaming is not restricted by the hardware, but by the interface. It is no fun playing gaming made for a touch interface, using a mouse. While AKAI has not provided any productivity apps, you can increase the productivity of the device if you install a free office suite such as Kingsoft Office, although you will also have to connect a keyboard to one of the USB ports, thus turning the Smart Box into a mini PC of sorts.
The Smart Box's browser has full support for Adobe Flash, which means the experience is the same as on the PC. Social networking apps and IM apps complete the Internet function. If this wasn't enough, a torrent client turns this device into an inexpensive download rig when clubbed with an external storage device and a Wi-Fi access point. AKAI mentions that it supports a lot of 3G and 2G dongles, thus it is possible to use this device to dial into the internet and also share internet using the Wi-Fi hotspot capability.
The power consumption was found to be around 1 W in idle mode and it went up and lingered at around 4 W while playing 1080p content, which is less when compared to most media players we had reviewed till date.
The Verdict
We have mixed feelings about the AKAI Smart Box. The UI is very sluggish, both, in the main screen and while accessing navigation controls during movie playback. The mouse is a good navigational device, but it simply cannot replace a traditional remote control for the sheer comfort the latter offers. On the plus side, the Smart Box it does play 1080p content without missing a beat and has DLNA support. While it can also be used as a productivity device by installing an office suite and connecting a keyboard, the sluggishness doesn't exactly make it suitable for that purpose. At Rs 7000, this would have been good as a media player that supports HDMI as well as composite interfaces, if it would have been accompanied by a proper media remote control. It comes instead with a mouse, which doesn't really serve the purpose as well. For the price that you are paying, we think it is better to rather go for a device with similar functionality such as the MINIX NEO G4, and the lack of extra USB ports in this case doesn't really hurt.
Features: 3.5/5
Performance: 3.5/5
Ease Of Use: 3.5/5
Value For Money: 2.5/5
Mojo: 2.5/5
Overall Rating: 3/5
TAGS: Media Players, Android, AKAI