MINIX NEO G4. Does The Budget Media Player Deliver? | TechTree.com
MINIX NEO G4. Does The Budget Media Player Deliver?
The tiny Jelly Bean powered gadget can be your personal multimedia hub when connected to a TV.
Rating

4
/5
01st Mar 2013
Pros:
Compact and portable; Flawless 1080p playback; Easily handles heavy games; Easy to use; Supports Google Play; Can also be powered by microUSB; Bundled remote; DLNA supported.
Cons:
No way to switch off; No analogue audio output.
MINIX NEO G4
MRP: $63.50 (Rs 3500)
Google's Android OS started as a mobile phone operating system, but has now found its way to just about every consumer electronics gadget due to its adaptability and versatility. HD media players have been quick to take advantage of the multimedia capabilities of this OS and quite a few are now available in the market. MINIX has got the NEO G4, which effectively comprises everything that you might find in a mid-range tablet, but without the display. This dongle-like gizmo comes with a dual-core CPU and runs ICS, which can be upgraded to Jelly Bean (which we did before starting the review). Read on to find out if this device packs in enough features to make it a worthy buy.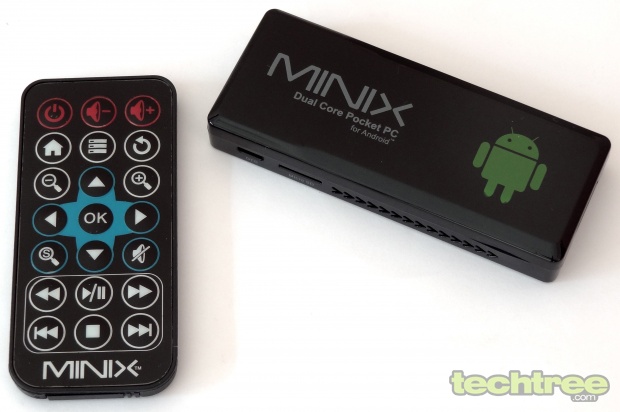 Design And Features
The MINIX NEO G4 looks just like a USB dongle and is about just as small. The device dimensions are 3.7" (w) x 1.5" (d) x 0.5" (1.3 cm) (h). It is encased in a plastic body with a glossy finish with the company name and Android logo prominently imprinted on top. The construction seems to be sturdy, although it rather easily gets dirty with dust and fingerprints due to the nature of its finish. There are perforations on the left and right for ventilation, so that the device runs cool.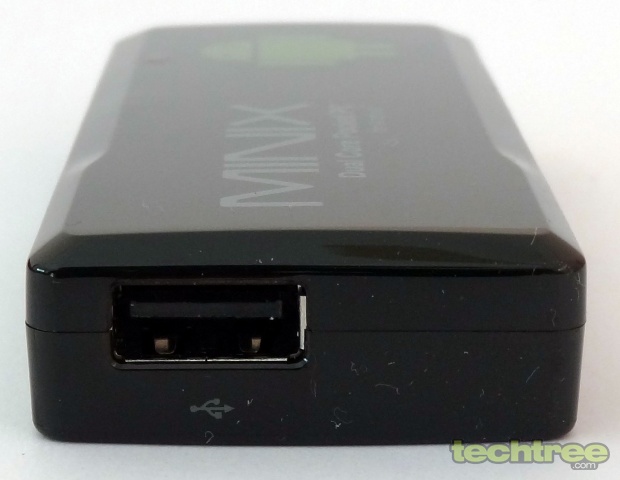 USB port of the MINIX NEO G4
There is a full-size USB port at the front to plug in USB drives. A micro-USB port is situated on the left, which is primarily used to derive power via the bundled data cable and USB power adapter. Both the USB ports sport OTG (USB host) capability and can be used to connect peripheral devices such as keyboards and mice, and other USB devices such as mass storage devices, although you will require a USB-hub to attach more than two.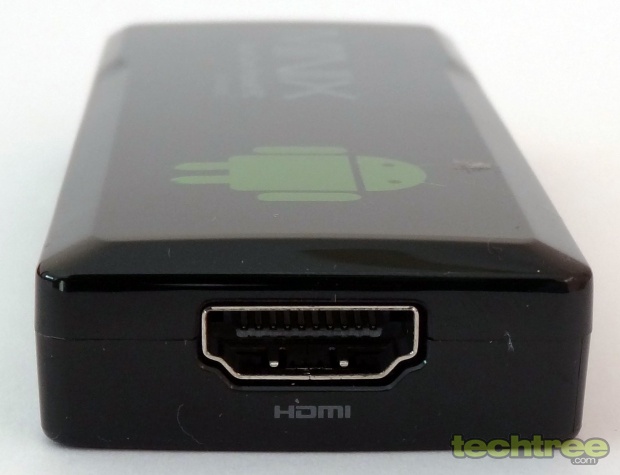 HDMI port of the MINIX NEO G4
A microSD card slot is also present on the left, which can support up to 32 GB as per specifications. An HDMI port is provided at the back as the sole video-cum-audio output option, which can be hooked up to a high definition display device. Unfortunately, you will not find commonly expected media player features such as a 3.5 mm audio jack to plug in your headphone or speaker system. Also, there is no button to switch off the device, so you have to power it off directly from the wall unit without a graceful shutdown. The remote control does have a power button, but it only seems to switch off the display output, while the device itself continues to remain powered on.

USB OTG and microSD card slot
A small and handy remote control is provided with this player. It works on infrared, thus line of sight is required, unlike remote controls based on radio frequency. The remote is powered by a standard button cell that is commonly used on computer motherboards to retain CMOS settings.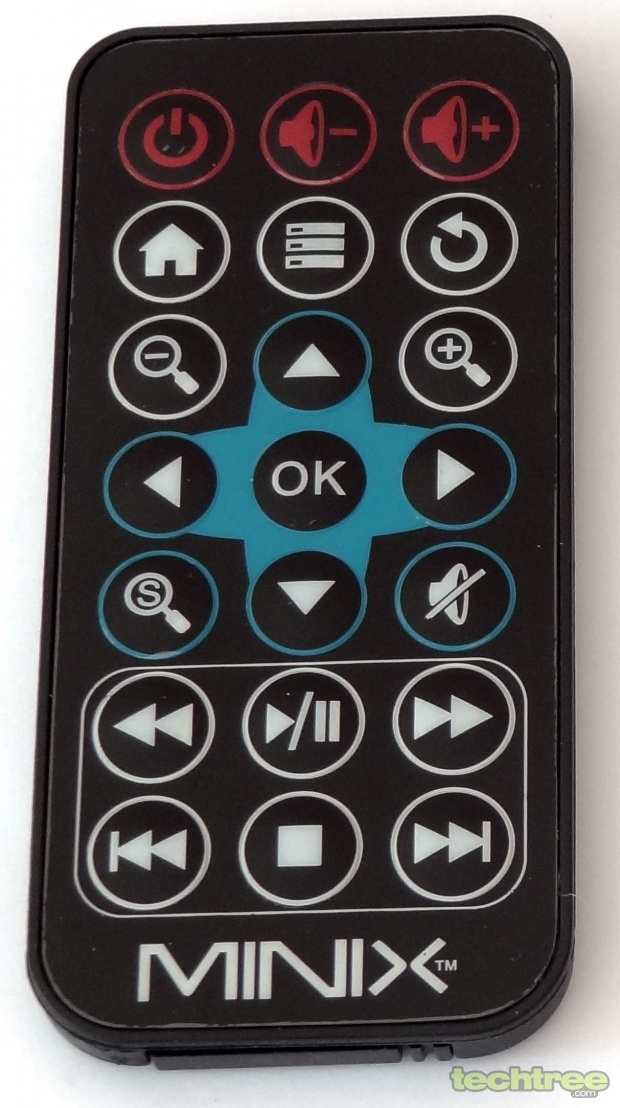 Alternatively, you can also use a USB mouse and keyboard, or preferably a USB keyboard-mouse combo as input devices. This can be more useful when you need to enter text, or if you want to use the device as a PC for productivity apps such as office applications. If you connect only mouse, you will have to depend on the on-screen keyboard, which drastically reduces its usability as a PC because you can operate this keyboard only by via mouse clicks. During testing, I used a Logitech MX 3200 wireless keyboard-mouse combo that works via a single USB dongle and it worked like a charm with the Mini PC.
Here is the specification list:
OS: Android 4.0.4 (Ice Cream Sandwich), Upgradeable to Android 4.1.1 (Jelly Bean).
CPU: Rockchip RK3066 dual-core Cortex-A9 @1.6 GHz.
GPU: Mali-400 MP4 quad-core @250 MHz.
RAM: 1 GB.
Internal storage: 8 GB.
Internet: Wi-Fi 802.11 b/g/n.
Expansion: microSD up to 32 GB.
Ports: Micro-USB, USB 2.0 (Both support OTG).
HDMI: 1080p, 3D movie format.
Video formats supported: WMV, ASF, MP4, 3GP, 3G2, M4V, AVI, RV10, DivX, VC-1, MPEG-1\2\4, H.263, H.264.
Audio formats supported: AAC, AAC+, eAAC+, AMR-NB, AMR-WB, QCP, MP3, WMA, WAV, MIDI, M4A.
Accessories: IR Remote control, Micro-USB cable, Power adapter, HDMI-HDMI dongle
Input power: 5V, 2A.
Performance
As there is no power button on the body, the unit gets powered on directly by plugging it in a wall socket. You can simply connect it into any powered USB port and it works normally, if you think that the power adapter is too large to carry. In fact, you can use this method to instantly turn your ordinary HD TV with a USB port into a Smart TV by powering this device via the TV's USB port (as long as the TV doesn't limit the current to 500 mA, because this unit may draw more current at some points of operation and switch off or reset when it doesn't receive that amount of current) and connecting the HDMI-Out from the device to the HDMI-In of the TV.
Once it powers up, the device first initialises the 720p video mode and then goes to 1080p mode if the display device supports it. It takes around 35 seconds to boot completely (we would prefer a quicker boot-up time). You are then presented with two choices of user interfaces: GridShow and Launcher, of which the latter is the standard Android 4.1 interface without any customisation, while the former only displays a few necessary icons pertaining to the media player functionality, in a grid.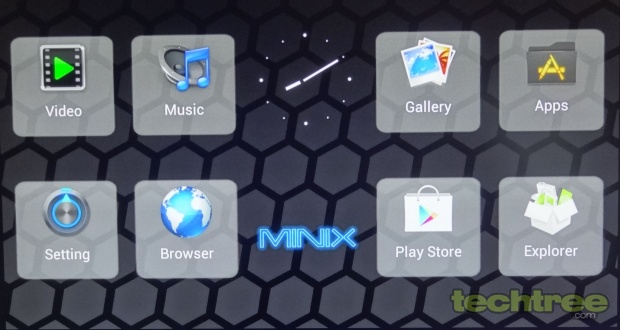 Grid view interface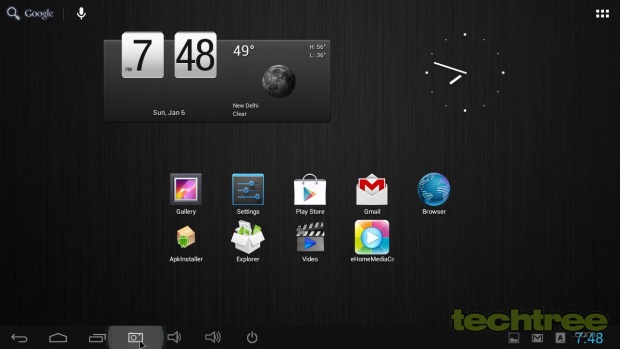 Standard Android interface
The standard Video Player is provided to play videos, although you can always install a better one such as the MX Player if required.
1080p movie playback is handled very well with butter-smooth performance. In case you are wondering, only stereo audio is supported via HDMI, so you will not be able to take advantage of surround channel audio if the source contains them. Details about the video and audio file formats are already mentioned in the specifications section. Subtitles are also supported in most popular formats such as SRT and SUB. Additional format support can be easily achieved by simply installing a suitable media player from Google Play. Accessing USB 3.0 external hard drives as large as 2 TB with NTFS file system was not a problem.
DLNA works very well via the eHomeMediaCenter app, as this feature transforms the device into a multimedia hub that can stream videos and music to compatible devices such as TVs, mobile phones, and tablets, on your home network. Streaming 1080p videos is also possible without any hiccups over the Wi-Fi network.
eHomeMediaCenter app for DLNA
As far as productivity is concerned, there is no bundled app provided to take care of this aspect out of the box. However, since you can access Google Play, you can download an app such as Kingsoft Office, which is a freeware office suite for Android that lets you create, view, and edit all major office file formats. Internet surfing, the ability to play live streaming videos, and social networking applications increase the value of this device. While it should work with compatible webcams, we weren't able to test this feature.
All the applications and games we tested worked well without any signs of sluggishness at any point. While it is powerful enough to handle just about any game currently available on Google Play, the choice is pretty much restricted to games that do not need a touchscreen device.
The power consumption of the unit was found to hover around 1 W when idle and peaks out at 4 W when playing Full HD videos. This is in fact lower than all other media players we have tested so far, thus giving it a few more brownie points. It becomes only moderately warm even after hours of usage.
Summary And TechTree Verdict
The MINIX NEO G4 works as it is expected to work and even surpasses our expectations by its sheer versatility. It can play multimedia files and also handle productivity applications with equal ease. The powerful hardware can even handle demanding games without a problem. Full support for Google Play store ensures that you can install any app or game without compatibility issues. One of the most important uses of this device is that it can turn your simple television into a Smart TV without using the power adapter. Priced at around Rs 3500, this currently seems to be one of the cheapest Android 4.1 (Jelly Bean) media player with a remote control and powerful hardware that you can lay your hands on.
Design And Features: 4/5
Performance: 4.5/5
Ease Of Use: 4/5
Value For Money: 4.5/5
Mojo: 4/5
Overall Score: 4/5
TAGS: Media Players, Android, Jayesh