Review: Lenovo IdeaPad K1 | TechTree.com
Review: Lenovo IdeaPad K1
The sweetest Honeycomb tablet.
Rating

4
/5
14th Jan 2013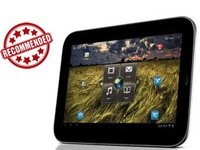 Pros:
Sleek UI; Sturdy build quality; Great performance; Excellent viewing angles; Good battery life; Expandable memory; HDMI port.
Cons:
Below average camera; No USB port; Lacks equaliser setting.
Lenovo IdeaPad K1
MRP: Rs 32,000
Street Price (As On 14-Nov-2011): Not available in online stores.

The K1 is not only Lenovo's first tablet, but also its first experiment with the Android OS. Although it has crashed the tablet party a little late in the day, its powerful NVIDIA Tegra 2 T20 chipset can still help this device stand out in a crowd. Let's find out how it fares against the likes of the iPads and Galaxy Tabs.


Design And Build Quality
The retail box packs in a tablet, charger, and data cable. The device measures 10.4" (l) x 7.4" (w) x 0.5" (d) and weighs 750 grammes. The front is dominated by the screen that sports a relatively big black bezel. The matte aluminium finish on the sides is pleasant to look at. The textured leather on the back gives it a premium feel and provides a superior grip over the device. Overall, the build quality is impressive.
Unlike most Honeycomb tablets, the K1 features a physical Home button. What's missing though is a micro-USB port. Lenovo has opted for a proprietary port, which is nothing short of an extortionist tactic to make users shell out more for accessories.
Ports and buttons.
The tablet is powered by a 1 GHz dual-core CPU, and has 1 GB of DDR2 RAM. Other features include a micro-HDMI port, Wi-Fi, Bluetooth, GPS, 5 MP primary and 2 MP front camera, 3.5 mm jack, SIM (for 3G data only) and microSD card slots, 32 GB internal memory (25 GB available for storage), 7400 mAh battery, and a bunch of sensors.


Display And Sound
The10.1"LED-lit touchscreen has pixel dimensions of 1280x800. The screen is bright and contrast levels are good too. Viewing angles are broad, and there's hardly a colour shift even at extreme inclinations. The sound quality of the two speakers at the back is pretty good, but it could have been louder.


UI And Applications
The K1 runs Honeycomb, with a little twist from Lenovo. Although the standard on-screen navigation keys such as Home, Back, and Menu are present, the physical Home button is a good addition. Apart from providing quick access to the homescreen, the button also supports a few swipe gestures. Think of it as a trackpad found on BlackBerry smartphones. However, getting it to work is a bit of a hit-and-miss affair. Finally, a long press of the button takes a snapshot of the screen.


Lenovo has thoughtfully added an option in the Task Switcher to kill apps.
Lenovo's customisation of Android 3.1 is beautiful, and I liked the default wheat field wallpaper. The launcher widget features five Zones (icons), which provides quick access to select apps. Of course, you can personalise this widget and add your favourite apps here.

The manufacturer has also added a Favourite button that looks like a speech bubble. When clicked, it shows thumbnails of your favourite apps. A nice addition, but first-time users might confuse this with the standard Task Switcher. Swiping across the five homescreens is extremely smooth, something you don't usually expect from Android tablets.


A thumbnail view of your favourite apps can be seen on the right side of the screen when activating the speech bubble icon in the bottom centre.
The Android Market has truckload of applications, but only a few are optimized for tablets. The others have to be stretched to fit the screen, which results in pixellation. If you compare the number of Honeycomb apps to Apple's offerings, the latter has a clear lead. However, K1's Flash-enabled browser is a big plus over the iPad's crippled counterpart. It renders pages in no time, and shows no signs of a slowdown even while dealing with Flash videos.

Maps and navigation are taken care of by Google Maps. However, the GPS is totally dependent on an internet connection, which makes it useless in remote areas. Rounding off the app selection are complex 3D games such as Galaxy On Fire 2 HD and NFS Shift HD, which run smoothly thanks to NVIDIA's GPU.


NFS Shift HD in action.
Multimedia
The default player has a neat interface, and the sound quality is excellent. However, the equaliser setting is nowhere to be seen - an incredibly stupid move.

The video player handles 1080p videos, but playback isn't very smooth. All is not lost though, as 720p video playback is flawless. The player supports DivX, XviD, and MP4 formats out of the box, so you don't have to bother with third-party apps.

Unfortunately, the device's camera produces horrible pictures. The quality is so bad that you won't believe it's a 5 MP snapper. Colours look lifeless and the amount of noise in low-light situations is unacceptable.
Camera sample.

The K1 is capable of 720p video recording, and here's the proof:

Battery And Verdict
The 7400 mAh battery's performance is excellent. Under heavy use, the device's battery bar was down to 50% after 4 hours and 40 minutes. For moderate use, the battery easily lasts up to 10 hours, which is quite a feat for Androids.

The K1 provides excellent build quality and great performance in a single package. Lenovo's customisation is far better than those of rival Android tablets. Packed with 32 GB of internal storage, it also covers all the connectivity options such as Wi-Fi, Bluetooth, GPS, and HDMI.

On the flipside though, the camera is bad and the USB port is missing. It's also not the slimmest and thinnest tablet available in the market. Having said that, it deserves our recommendation for providing numerous features and great performance at a price tag of Rs 32,000.


Features: 4/5
Design And Build Quality: 4/5
Performance: 4.5/5
Value For Money: 4/5
Mojo: 4/5

Overall Rating: 4/5

TAGS: Tablets, Android, Lenovo, IdeaPad, ck