Review: Nokia C2-03
A jack of all trades.
Rating

4
/5
14th Nov 2011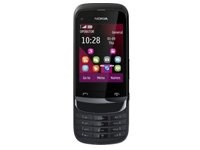 Pros:
Stylish looks; Hot-swappable external SIM slot; Touch-and-type input; Great sound quality.
Cons:
Laggy and annoying touch experience; Memory card slot is not hot-swappable.
Nokia C2-03
MRP: Rs 4900
Street Price (As On 10-Nov-2011): Rs 4400 (Adexmart.com; Letsbuy.com; Flipkart.com)

At first glance, the C2-03 stands out as a stylish slider phone. Moreover, the touch-and-type interface adds more value to this dual-SIM phone. Time to find out whether it manages to strike a balance between features and usability.


Design And Build Quality
The retail pack ships with a phone, charger, earphones, and a 2 GB microSD card. The device measures 4" (l) x 2" (w) x 0.7" (d) and weighs 115 grammes. The body is mostly made of decent-looking matte plastic. In my opinion though, the chrome finish at the bottom looks very cheap. The metallic sliding mechanism is sturdy and can withstand rough usage. If you ask me, although the finishing might get ruined by scratches, the device will last for years.
The keypad doesn't offer much of a tactile response and is also too flat for my liking. Although it gets the work done, it could have been better. The Call and Hang Up buttons are on a single strip below the screen, which goes well with the bezel. The second SIM card slot is hot-swappable, but the microSD card slot is placed under the battery. This means you have to turn the phone off every time you want to swap the card - an incredibly stupid design.

The phone features a 2 MP camera, Bluetooth, micro-USB port, and a 3.5 mm jack, which covers all the essential features at the low-end segment.


Side views.

Display
The 2.6" touchscreen is of the resistive type and has pixel dimensions of 320x240. The screen is well-lit and perfectly legible indoors. However, there's no setting to adjust the brightness, which is bad since the readability reduces drastically under direct sunlight. Viewing angles are very limited, but is expected at this price point.


User Interface
The device runs Nokia's Series 40 software, which has been modified to make it touch-friendly. You get Symbian Anna-like icons and support for a few swipe gestures. You can add your favourite apps and widgets to the homescreen for quick access.

As usual, multitasking support is missing, but you can minimise the music player and open other apps. Overall, the new look has improved the usability to some extent, but the low-powered CPU plays spoilsport. There's a slight lag while browsing through your contacts, and apps do take their own sweet time to load. More importantly, don't expect the touch experience to be pleasing - it's not a capacitive screen you're dealing with.


The Series 40 interface.


Telephony And Messaging
A long press of the [*] key brings up a SIM management menu. Here, you can choose the preferred SIM for calling or set it to the Ask every time option. The network reception was superb throughout the testing process and voices were loud and clear at both ends of the call.

Messaging covers everything from SMS to emails. You also get an option in the settings to select the preferred SIM for texting. The Communities app offers great Facebook and Twitter integration. For other sites, Nokia Browser is your friend. Taking inspiration from Opera Mini, Nokia's in-house browser compresses data to save your money and time. You can also download loads of free apps from Nokia's Ovi Store, which no one else has at this price tag.


Multimedia
The phone has a decent music player that supports MP3, WMA, WAV, and AAC. Bluetooth A2DP support to allow pairing with a stereo headset is present. The sound quality through the earphones is good and reasonably loud. The device supports a 32 GB memory card, which will take care of your music collection. On the downside, an equalizer setting is absent. FM radio is duly covered and sounds pretty loud through the inbuilt speaker.

The video player supports the 3GP and MP4 formats, which isn't bad for a low-end device. However, the small 2.6" screen is not at all suitable for watching movies.

The 2 MP fixed-focus camera produces decent snaps in daylight. Colours look good, but the excessive noise is a party pooper. The device is capable of 15 fps video recording, which is only good for MMS. It's certainly not a phone you will buy for the camera.


Battery And Verdict
The 1020 mAh battery's performance is good. It takes almost two days before the fully charged battery runs out of juice.

Thanks to its slider design, the Nokia C2-03 is the most stylish dual-SIM phone in the market. Apart from that it offers a good music player, capable email and social networking client, and more importantly, a touch-and-type interface.

On the other hand, the touch experience is not pleasing. The slight lag in the interface might frustrate users hoping for a blazing fast feature phone experience. However, the device manages to squeeze so many goodies into the package that it faces no direct competition. This makes it the best dual-SIM phone in the budget (under Rs 5000) category.


Features: 4/5
Design And Build Quality: 4/5
Performance: 3.5/5
Value For Money: 4.5/5
Mojo: 3.5/5

Overall Rating: 4/5


TAGS: Mobile Phones, Multi-SIM, Nokia, ck