Review: Samsung HT-D555 DVD Home Theatre System | TechTree.com
Review: Samsung HT-D555 DVD Home Theatre System
A DVD HTIB at the price of a Blu-ray HTIB.
Rating

2
/5
16th Sep 2012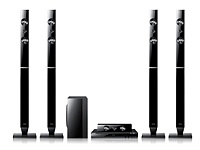 Pros:
Decent music performance; Sufficiently long cables.
Cons:
Expensive; Region locked; USB playback limited to SD content; Inadequate codec support; Wobbly stands; Mediocre interface.
Samsung HT-D555 DVD Home Theatre System
MRP: Rs 34,900
Street Price: Rs 28,250 (Letsbuy.com)


Home Theatre In a Box systems (HTIB) are generally targeted at users more concerned with specs than quality. If an audiophile-grade home theatre setup is a gourmet meal, an HTIB is the consumer electronics equivalent of roadside Chinese food. Its very ethos is to deliver a low-cost, hassle-free experience with inevitable compromises made on the quality front. Samsung's HT-D555 DVD Home Theatre System (Rs 28,250 @Letsbuy.com), however, strays from the HTIB logic with a price that's slightly higher than the Sony BDV-E880 Blu-ray HTIB (Rs 27,000 @Letsbuy.com). The question is: can the Samsung surpass Sony's better specced Blu-ray HTIB, and deliver enough of a quality premium to offset its lower specs? Well, there's only one way to find out.

The speakers are wobbly.

Design And Build Quality
Samsung's design is par for HTIBs in this price range, with four pseudo-floorstanding speakers (dubbed "Tallboy" in marketing lingo), a surprisingly heavy centre channel, and a passively amplified side-firing subwoofer. Samsung has been generous with the cabling, which is long enough to go beyond the maximum aural range of the speakers.
Unlike most systems in this price range, and even above it, the HT-D555 features a relatively solid build quality. The base plate employed to mount the satellites is quite heavy. Unfortunately, this amounts to nothing because the satellites themselves are propped up with wobbly stands. There's always the wall mount option, but the wobble shouldn't be a concern because the satellites' tiny drivers don't push enough air to make the wobble an issue.

The centre channel is surprisingly heavy.

The entire set sports a piano black finish. The DVD player \ receiver is relatively slim, with a row of capacitance touch switches for essential power and playback functions. Two microphone ports at the front enable karaoke duets, and most likely chronic headaches for your neighbours as well. The rest of the fascia sports an 8-segment styled LED matrix display and a concealed USB port for audio, video, and photo playback.

Conveniently colour-coded speaker outputs at the rear make the initial setup easy. In addition to the usual component, RCA, and HDMI video outputs, you also get an optical input to connect an external audio CD player, or route bitstream audio from your PC. A complete lack of HDMI or any other video input means that you cannot hook up an external Blu-ray player. On the bright side, it's good to see an exhaust fan included to keep the amplifier cool.

The remote control features above-average plastics, but isn't very ergonomic owing to buttons bearing similar shapes and sizes. The volume and tuning rocker buttons, however, are thoughtfully aided by tactile bumps.

The back panel lacks HDMI or video inputs, so forget about connecting an external Blu-ray player.

Features And Performance
The home theatre system claims a total power output of 1000 W (RMS), which is on par with practically every HTIB out there. True power might be a different affair altogether, since most of these inflated figures are usually evaluated at 1 KHz and with higher distortion levels.
The unit includes the garden variety of multichannel formats such as DTS and Dolby Digital, while matrix upscaling (stereo to 5.1) is limited to Dolby Pro Logic II alone. A USB port means that you can play music, movies and watch photos through both FAT32 and NTFS formatted external drives. Unfortunately, the number of codecs supported is thin (DiVX and XViD) and I found most of my movies unplayable. However, it isn't just the codec compatibility at fault here. The HT-D555 surprisingly cannot play any HD or Full HD content, or rather anything that is over 800x600 pixels. With the ubiquity of 720p and 1080p videos, this practically makes the USB feature moot for most users.

Auto calibration is time consuming and inaccurate.

The setup is quick and easy, which isn't a surprise considering the dearth of features. Samsung bundles a calibration microphone that automatically determines speaker levels and driver delay. The process takes a lot of time, which isn't helped by the inaccurate results. I therefore decided to set the parameters manually.

After having seen the excellent, albeit laggy, XMB interface on the Sony BDV-E980 Blu-ray Home Theatre System, the lacklustre UI on the Samsung seems rather prehistoric in comparison. With the XMB, you can shuffle seamlessly between FM, Blu-Ray, USB, Audio, and Photo modes. The Samsung, however, forces you to use the cumbersome and time-consuming Source Select button to switch between those modes for optical and USB media.

The menu is pretty spartan.

The movie performance evaluation proved to be a pain. Since the player is locked to Region 2, my entire collection of Region 1 reference DVDs was rendered useless. However, once I returned the next day with the few Region 2 DVDs that I could find, the HTIB performed reasonably well. Audio panning was spot on, and the drivers could hold their own during the demanding (read loud and busy) action sequences. The side-firing subwoofer might not be the most accurate, but it possessed enough bass extension and impact to bring alive the explosions and LFE effects pivotal to the multichannel movie experience. The centre speaker did a good job at delivering crisp dialogues, even when things got busy with the rest of the drivers. With a good showing in the movie department, it's a pity then that the HT-D555 cannot play Region 1 DVDs, which are generally preferred for their superior mastering quality.

This HTIB may command a premium, especially considering its lack of features, but it does incorporate better equipment and build quality for the price. Case in point being the silk dome tweeter and the dainty-looking metallic phase plugs on the squawkers. Interestingly, good looks translate into good performance as well in this case. As long as you aren't expecting a Wharfedale level of sonic capability, the HT-D555 actually performs admirably with music. The vocals in the Corrs: Unplugged DVD were rendered crisply, with decent imaging and separation between the instruments. I liked the fact that this HTIB preserved the tonality to a good extent, which is a boon for music. If you want a relatively cheap yet good-sounding multichannel setup, this is a decent option.


Conclusion
This brings us back to our original question. Can the Samsung HT-D555 deliver enough of a performance premium over the Sony BDV-E880 Blu-ray HTIB to justify sacrificing Blu-ray and HD-rip playback?

The product shows no significant improvement in movies, while the audio performance is noticeably better. The fact is that the difference in musicality isn't profound enough to give up Blu-ray and HD video playback. If you're really that keen on music, you will be better served with a good stereo setup, which is cheaper to boot. The very recipe of a good HTIB is decent performance coupled with rich features and ease of use, at affordable prices. The Samsung HT-D555 fails miserably on the pricing and features front, which makes choosing the BDV-E880 a prudent decision.


Performance: 3.5/5
Design And Build Quality: 2.5/5
Features: 1.5/5
Value: 2/5
Mojo: 1/5

Overall Rating: 2/5
TAGS: Home Theatre, Samsung, Nachiket