Portronics Handmate. Bringing Touch Where There Is None | TechTree.com
Portronics Handmate. Bringing Touch Where There Is None
Upgrades your existing traditional display to a Windows 8 compatible touchscreen.
Rating

3.5
/5
25th Jan 2013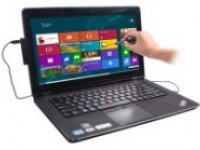 Pros:
Works as advertised; Small and compact; Requires no drivers; Works even with old applications and games; Priced well.
Cons:
Only works with provided stylus; Calibration may be erratic at times; Can work with screen sizes only up to 17".
Portronics Handmate
MRP: Rs 5000
When Windows 8 was announced, non-touch screens suddenly seemed old, as the new desktop OS had been optimised for touchscreen devices. For those who want to try out the touch experience, without indulging in an expensive upgrade, the Portronics Handmate can be one approach. The gadget turns the existing screen of your PC or laptop into a touch-based interface that works with Windows 8. We recently tested the product here's a review.
Bundle
Base unit
Metal strip
Micro-USB cable
Digital pen with 2x button cells
2x brush-tipped styluses
Soft carry pouch
Design And Features
The overall dimensions are compact with the base unit measuring 2.7" (6.8 cm) in length and 1.1" (2.7 cm) in width, while it is just 0.3" (7 mm) thick. As it hardly weighs a few grams, it sticks to a magnetic strip and doesn't fall off once set in place. It has a black matte finish, which should go well with a laptop with black bezel, although it does look out of place on laptops with aluminium finish. The same goes for the metallic glossy black magnetic strip that attaches to the bezel. The base unit has a green LED, which indicates power, and a red one indicating low battery for the pen.
The Handmate can convert a non-touch monitor of up to 17" into a touchscreen device. The resolution is stated to be 100 dpi, with accuracy of 0.2 mm, which means it should be as good as a normal touchscreen, but it cannot be operated with fingers.

The base unit of the Portronics HandMate

The digital pen resembles a normal pen with a cap. Two metallic styluses are to be inserted into the pen before you begin using it. The stylus has a brush at one end, to prevent scratches on the screen. The side button on the pen can be configured via the Pen and Touch setting in the Control Panel.
The company claims that this device works using infrared and ultrasound technologies to locate the position of the stylus on the screen. The side of the base unit facing the screen has a translucent window that houses infrared sensor, while two other sensors that appear to be microphones are situated near the top and bottom on the same side. Since technical information has not been forthcoming from the company, we assume that the infrared picks up signals when the side button is pressed, while the two microphones act as a sonar to locate the position of the stylus on a virtual two dimensional map spread across the screen area using ultrasonic sound (very much like a bat locating objects while flying in the dark).
Performance
The hardware installation is very easy, following the manual. The Handmate doesn't come with any drivers and it doesn't require separate ones to work — the in-built Windows drivers take care of detection and installation. The software installation has calibration as a critical step and it can be tricky. Calibration may be erratic, as we found out. It may sometimes work in the very first attempt, or may become stubborn and may take several attempts. However, once the calibration is done, it does work as intended.
We tried playing a few games such as Fruit Ninja, Cut The Rope, and Angry Birds: And it worked like a charm. Since it basically replaces the mouse as an input device and Windows recognises the Handmate as one, we were also able to use it perfectly well with older games such as Dynomite. Additionally, it works well with other applications such as Paint and the in-built Handwriting Recognition software. Gestures are supported as well. Lastly, while it is not advertised, it works equally well with Windows 7 too. Check out the video for details.
The Verdict
The Portronics Handmate is a unique device gives your old non-touch display a shot in the arm to keep up with a Windows 8 upgrade. It works well out of the box and qualifies to be a plug-and-play device that starts working almost instantly. In fact, it also works with Windows Vista and 7 with equal ease, even though that is not advertised that way, since these operating systems have not been optimised for touch-based input devices. It is very portable and can be carried along and used with any Windows 8 PC, so long as you find a way to fix the base unit to one side of the screen's bezel. Understandably, it is not comparable with touchscreens of Windows 8 devices which gives you the convenience of using your fingers. Also, the compatible screen size is limited to 17", making it ideal for use with laptops, but not with desktops, which generally sport larger screen sizes. All said and done, the Portronics Handmate is priced well at Rs 5000, considering its utility value for Windows 8 users.

Features: 3.5/5
Performance: 3.5/5
Ease Of Use: 4/5
Value For Money: 4/5
Mojo: 3.5/5
Overall Rating: 3.5/5
TAGS: Accessories, Input Devices, Portronics, Windows, Microsoft, Jayesh