Review: Acer Aspire One 722 | TechTree.com
Review: Acer Aspire One 722
AMD strikes back!
Rating

4
/5
28th Oct 2011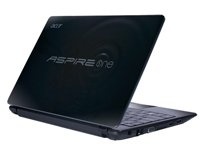 Pros:
Great performance; Relatively big screen; HDMI port; Well-priced.
Cons:
Heating issues; Mediocre keyboard.
Acer Aspire One 722
MRP: Rs 18,550
Street Price (As On 28-Oct-2011): Rs 18,600 (Flipkart.com)

Just when we were getting bored of Atom-based netbooks, Acer has brought some variety to the market with its latest offering. The Aspire One 722 features AMD's C50 APU (Accelerated Processing Unit), which promises to bring better performance to the table.


Design And Build Quality
The 722's retail box contains the netbook, power brick, and a carry pouch. The black model (also available in white, cyan, and red) we received sports a classic look with a droplet pattern on the lid. The ripple effect is well done and allows the device to look distinct without being gaudy. The display hinges are tight and sturdy and as a whole, the netbook seems to have been designed to survive a fall or two. The device's back panel offers relatively easy access to the internals, with only one screw standing in your way.
The keyboard sports a very thin bezel to make better use of the available space. Similar to the previously reviewed Aspire One Happy 2, the keys are relatively bigger than found on most netbooks. Although it gets the job done, an island-type keyboard would have made the experience better.

The trackpad sports a matte finish that runs through the entire lower half of the laptop. The touchpad offers good sensitivity and is accompanied by a vertical scrolling line. It supports a few touch gestures too. However, there's no visual separation between the mouse buttons, and they are not as big as I would have liked.


The laptop measures 11.2" (l) x 7.9" (w) x 1" (d), and weighs 1.3 kg. The chassis has been made of high-quality plastic and has no creaks whatsoever.



Side views.


Display And Sound
The 722 sports an 11.6" LED backlit display with 1024x600 pixels. Similar to the Happy 2, the screen is relatively brighter than most netbooks. The colours look good, but the screen is reflective, which can be annoying at times.

The two tiny speakers at the bottom are not very loud, but they get the job done. However, while watching movies, it's better to plug in your favourite earphones.


Performance
The AMD C-50 APU is incorporated with AMD Radeon 6250 graphics. The dual-core CPU is clocked at 1 GHz and is coupled with 2 GB of RAM. Other specs include Wi-Fi, Bluetooth 3.0, an HDMI port, webcam, SD memory card reader, and a 320 GB hard drive spinning at 5200 rpm.

The device comes pre-installed with Windows 7 Starter and includes a free ad-supported Office Starter 2010, which is good enough for daily tasks. Acer has also bundled some bloatware, McAfee Internet Security being the most annoying of the lot.

The 722 never has a hard time handling basic tasks, and can also take on intensive image-editing software such as Photoshop. It simply outperforms most Atom-based devices and is also capable of playing 1080p videos with ease. Moreover, the device is a great companion for some casual gaming on the go. Surprisingly, it managed to run Call of Duty: Modern Warfare 2 at 18 to 22 fps with anti-aliasing turned off. This is not as impressive as the HP Pavillion dm1z's performance, but is still a plus point for a netbook at this price. On the flipside, the device tends to heat up more than normal netbooks. I'm looking at you stupid, tiny heat vent.


Call Of Duty: Modern Warfare 2 running at an average fps of 20.

Windows Experience Index.

PCMark 7 score.

Battery Performance
The main purpose of the netbok is its portability, and it cannot be achieved without great battery life. The 722's 6-cell battery powers the device for 7.5 hours under normal use with brightness set to around 50%, and for slightly more than 4 hours while watching movies.

We also ran the Battery Eater benchmarks, and the results are as below. Note that the brightness had been set to maximum during testing. The increased brightness levels offered by this netbook has caused a slight dip in the test results.



Verdict
The Aspire One 722 stands out in a crowd due to its design and performance. It humbles every other similarly priced Atom-based netbook. Moreover, it packs in an HDMI port and a bright 11.6" widescreen display.

On the other hand, its keyboard could have been better, and the system has a bit of a heating issue. Still, considering the performance, it's a good deal for folks looking for a decent netbook without crossing the 20k mark.


Features: 4.5/5
Design And Build Quality: 3.5/5
Performance: 4/5
Value For Money: 4.5/5
Mojo: 4/5

Overall Rating: 4/5

TAGS: Laptops, Acer, Aspire, ck