Movie Review: Brave | TechTree.com
Movie Review: Brave
A courageous attempt, but not Pixar's best.
Rating

2.5
/5
29th Sep 2012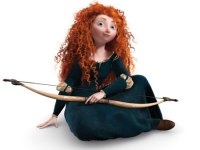 Pros:
A contemporary story; Visually impressive; Interesting characterization; Beautiful character animation.
Cons:
Weak second half; Scottish accent makes it difficult to comprehend the dialogue; Hasty wrap-up.
Brave
Director: Mark Andrews, Brenda Chapman, Steve Purcell
Cast (Voices): Kelly Macdonald, Billy Connolly, Emma Thompson, Craig Ferguson, Julie Walters
Genre: Animation \ Fantasy
Running Time: 1:40 hours


Ever since its first trailers hit YouTube three months ago, Brave has been a keenly awaited entry in my list of must-watch movies. For one, this is the first Pixar film with a female protagonist. Moreover, I also was curious to see whether the studio could pull off a fairytale with the same flair as Wall-E, Toy Story 3, and Up. Does it live up to expectations? Let's find out.

The Story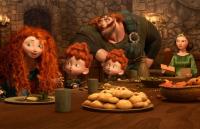 Brave attempts to be an exciting, coming-of-age story about an unconventional princess called Merida — a sassy archer, rider, and free-spirited girl, personified by her wild, flaming tresses. No damsel in distress, Merida is opinionated and rebellious, with a tongue as sharp as her arrows. Set in a mythological town in Scotland, the film begins on a pretty conventional note: the girl grows up under the watchful eyes of her mother Queen Elinor, who does everything to ensure that Merida is trained to be a true (read: fairytale) princess. Understandably, the effort is in vain, as she often vamooses to explore the world on her favourite steed, much to her mum's annoyance (and dad King Fergus's approval). Her triplet brothers only add to the fun, giving the otherwise uptight royal household a warm and modern feel.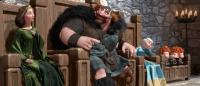 As Merida turns 17, her mother decides to get her married, and calls upon the realm's three clans to present their sons as suitors. However, our little renegade rebels, gets into an argument, and gallops away. That's where the story takes a twist. Conned by a witch, Merida asks for a spell to change her mother's behaviour. The spell works, only to transform the Queen into a bear. This is where the things get exciting and climax into a happy ending.

The Highs And The Lows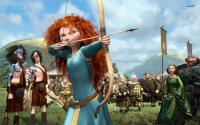 One of the many things that makes Brave a must-watch is its storyline. It's unconventional in its progression, while the nuances of each character and their responses are natural. This is what makes the first half of the film an absolute delight. Adding to the experience, of course, is the visual detailing that Pixar is known for — although personally I felt a 3D version was wholly unnecessary. The animation, as usual, is on par with Pixar standards.

Unfortunately, the second half comes across as a big letdown. After starting off with a great story, the makers forgot how to take it forward and wrap it up to everyone's satisfaction. As a result, towards the end, most characters lose their sheen, especially that of Merida. The few funny moments in the latter half do offer some respite, but not enough to make it a second Wall-E. The thick Scottish accent is another drawback, as it takes a while to understand what's being said. It's certainly not something you want to deal with while watching what is essentially a lighthearted fantasy.

The Verdict

There's little doubt that Brave is a courageous attempt on Pixar's part to turn fairytales around, even though it falls short at the finish line. If you're willing to forgive the last five minutes of utter disbelief and what-were-they-thinking moments, it comes across as a well-put-together story that had the potential to be a little more kid-friendly and simply better than what's on offer.



Plot: 2.5/5
Performances: 2.5/5
Visuals: 3/5
Sound: 2/5
Mojo: 2.5/5
Overall: 2.5/5
TAGS: Culture, Movies, Madhulika