Review: HTC One V
A stylish and feature-packed handset that delivers a pleasant ICS experience.
Rating

4
/5
14th Jan 2013
Pros:
Pleasant ICS experience; Feature packed camera; Impressive design; Bright display.
Cons:
No front-facing camera.
HTC One V
MRP: Rs 20,000
Street Price (As On 8-Jun-2012): Rs 18,200 (BuyThePrice.com); Rs 17,000 (IndiaPlaza.com); Rs 18,500 (Saholic.com)


Unlike last year, HTC now seems to release and concentrate on fewer handsets. While its One X rivals the Samsung's GALAXY S III, the One V battles it out in the crowded mid-range segment. The handset offers Android 4.0 out of the box to stand out from the crowd. Additionally, it comes with a few software tweaks generally found only in high-end phones. Let's see if it manages to strike a balance between price and performance.
The video review for HTC One V.

Design And Build Quality
The retail box contains the phone, wall charger with detachable USB cable, and a pair of earphones. Measuring 4.7" (l) x 2.4" (w) x 0.4" (9 mm) (d), the handset feels good to hold. Despite having a metallic unibody construction, it manages to remain light at 115 grammes. Unlike Samsung, the Taiwanese manufacturer is known for good looking phones, and this device is no exception. Additionally, HTC has brought back the iconic curved "chin" design, which is reminiscent of the world's first Android phone, the HTC Dream. Overall, the One V delivers a great design and sturdy build.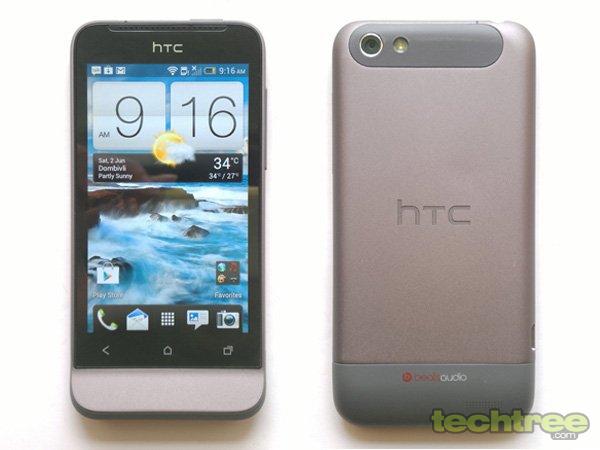 The phone's 3.7" screen has pixel dimensions of 480x800, with pixel density being 252 ppi. The screen is bright and offers wide viewing angles. Display sharpness and color reproduction is also reasonably good. However, the panel's sunlight legibility and contrast ratio could have been better.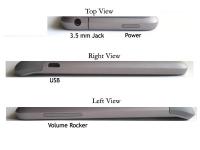 The handset is powered by a 1 GHz CPU, coupled with an Adreno 205 GPU. Other specs include:
A 5 MP camera
512 MB of RAM
4 GB internal storage (1 GB user accessible)
MicroSD card slot with support for up to 32 GB
Wi-Fi, GPS, and Bluetooth 4.0
A micro-USB port and 3.5 mm jack
A 1500 mAh battery
A standard set of sensors
UI And Applications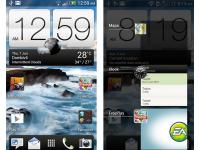 The HTC One V features Android 4.0, with Sense 4.0 on top of it. Although the interface is similar to what we've seen on the One X, HTC's mid-range offering lacks a few Sense UI features such as the overview mode and lockscreen customisation. Additionally, the multitasking menu on the One V is stock ICS (Ice Cream Sandwich).
Considering the device's price tag, the user experience is good enough. The phone does lag a bit while using the task switcher, but its rivals aren't any better either. The One V also features the latest version of the Android web browser. It comes with full-Flash support, tabbed browsing, and an option to toggle between mobile and desktop mode.
Like most Android handsets, the One X's One V's integrated GPS failed to lock onto the satellites during our test. However, the handset can tell your approximate location using Assisted GPS.
Since the handset lacks a front-facing camera, video calls are a no-go. I think this will disappoint many potential buyers.
Multimedia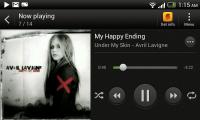 The One V offers a plethora of equaliser settings. Additionally, it comes with Beats audio enhancements. However, despite the branding, the phone doesn't include Beats audio earphones. The handset's sound quality is very good considering its price tag. On the video playback front, it is capable of handling MP4, 3GP, and WMV videos up to 720p. However, a few AVI files might require you to grab a third party video player app. You can enable the Beats audio enhancements even in the default video player. This comes handy while watching music videos.
The smartphone's camera UI gives access to the snapper and camcorder at the same time. This means you can snap pictures while recording video. The phone provides many features including Panorama, Burst mode, Group portrait, and HDR.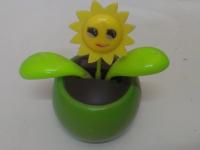 Additionally, it gives access to numerous camera filters such as Vintage, Aqua, and Sepia to name a few. Since the One V lacks a dedicated camera button, autofocus and touch focus have been implemented.
The One V has a surprisingly low shutter lag, which makes it one of the fastest camera phones in the mid-range segment. The image quality is good for a 5 MP snapper. In the video mode, it can record 720p videos at 30 fps. Recorded clips are saved in the MP4 format, but tend to be choppy at times. Click here to check out the video sample.


Telephony, Messaging, Battery Life, And Verdict
The handset's call quality and signal reception during the tests were good. Fortunately, it doesn't show any signs of the dreaded Wi-Fi death grip, which can't be said of previous HTC phones such as Sensation XE and Rhyme. The keyboard is usable in the portrait mode despite the 3.7" screen size. However, it's best used in the landscape mode.
The One V's 1500 mAh battery can power it for a shade under 6 hours with heavy usage. It can easily last for around 10 hours on a full charge charge under normal usage.
The phone has a great design and delivers a pleasing ICS experience without costing a bomb. Additionally, its feature packed camera adds value to the package. It has a few minor shortcomings, but the lack of a front-facing camera can be a deal-breaker for those who seek video calling.
Features: 4/5
Design And Build Quality: 4.5/5
Performance: 3.5/5
Value For Money: 4/5
Mojo: 4/5
Overall Rating: 4/5
TAGS: Mobile Phones, Android, HTC, One, ck