Review: Corsair Vengeance K90 Gaming Keyboard | TechTree.com
Review: Corsair Vengeance K90 Gaming Keyboard
A good product, but marred by some bad design decisions.
Rating

3
/5
03rd May 2012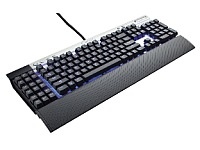 Pros:
Sublime Cherry MX Red mechanical switches; Brushed aluminium fascia; Easy to clean; Soft rubberised wrist pad; High-quality media playback controls; Long, thick braided cable.
Cons:
A good number of keys aren't mechanical; Cryptic macro programming; Harsh backlighting; Non-standard keyboard layout; Tiny [SHIFT] key is a hindrance.
Corsair Vengeance K90 Performance MMO Mechanical Gaming Keyboard
MRP: Rs 7000

I'm a huge fan of mechanical keyboards. Having owned a couple of keyboards with Cherry MX Blue (clicky) switches, I was curious to see how good the hitherto hard-to-get Cherry MX Red switches really are. Corsair's Vengeance K90 MMO keyboard includes these switches, which require a negligible 40 grammes of actuation force, and make no audible clicks. While the choice between the clicky Blue and the silent Red switches is subjective, I personally prefer the former although they are a bit difficult to press repeatedly, than the latter. Having said that, Corsair is the only one offering the Cherry MX Red switches in India, at the moment.



Corsair is the only manufacturer offering Cherry MX Red switches in India

When In Doubt, Use Aluminium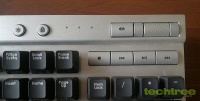 The build quality of the keyboard is classic Corsair - tough and made with a no-holds-barred approach to materials. The plastic chassis has been topped off with a beautiful brushed aluminium top, which hosts a floating array of mechanical keys, devoid of any frame. This naked key arrangement makes the keyboard extremely easy to clean, albeit at the cost of exposing the internals. The build quality is good, but not as good as the Razer BlackWidow, which includes metal bracing to prevent chassis flex. If you put enough pressure on the K90, it's plastic chassis does tend to trampoline. However, that isn't an issue in practice, because of the softness of its keys.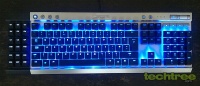 The media keys are top-notch, with chunky buttons, and a slick analogue jog dial for volume control. Unfortunately, the playback control keys have been placed awkwardly above the numpad. Backlighting is a standard Cherry MX affair, with an individual blue LED for each key. The aluminium top tends to amplify the scattered backlight to an extent that I was forced to keep it switched off for the sake of my eyes, and sanity. On the bright side, the soft rubberised wrist pad is quite comfortable and conveniently detachable. The braided cable is long, thick and features a dedicated USB pass-through for convenience.
Is This A Mechanical Or A Membrane Keyboard?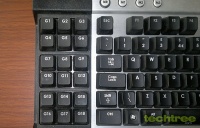 The K90 has solid gaming credentials thanks to a 20-key rollover and anti-ghosting - all this lets you press multiple keys at once without worrying about input glitches. On-board memory also ensures that your settings remain constant even when you carry your keyboard to your friend's place. Unfortunately, the switches on the review sample didn't feel as smooth as they do on the Razer's mechanical keyboards. Another major issue is the fact that many key clusters such as the function keys, the macro keys, and the [PrtScn] to [Pg Dn] are all regular polydome switches. In effect then, this isn't a full mechanical keyboard.
My biggest grouse with the keyboard is its non-standard UK layout. The left [SHIFT] key split in half to accommodate the [\] key. This and other layout issues make it a nightmare for everyday typing. Another major problem with the K90, is the driver suite. Setting up macros for the 18 programmable G-keys is quite cryptic. The lack of labels and proper explanation makes the trial-and-error affair extremely tedious.
Macro Hell
Since the G-keys are crucial for the K90's target demographic of MMO gamers, making the macro assignment process so convoluted is a very bad idea. Hopefully, Corsair will upgrade its beta drivers to make it a lot more user-friendly. Then again, I don't really get how a manufacturer can release a product into the market with beta drivers.
The K90 showed a lot of promise with high-quality materials and Cherry MX Red switches, but it's let down by a non-standard keyboard layout, polydome switches, and a terrible driver suite.
Performance: 3.5/5
Design and Build Quality: 3/5
Features: 4/5
Value: 3/5
Mojo: 2/5
Overall Rating: 3/5
TAGS: Input Devices, Gaming, Corsair, Nachiket