Nexus 6P: Fast and Furious Google Phone | TechTree.com
Nexus 6P: Fast and Furious Google Phone
Huawei's Android smartphone, with its crisp screen and good camera, is the fastest phone our reviewer's ever used
Rating

4.5
/5
27th Apr 2016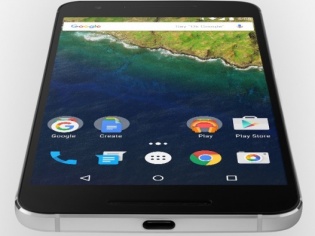 Pros:
Very fast and smooth, Very good camera, Good battery life, Good sound, Flawless fingerprint sensor
Cons:
Expensive, No expandable storage, No wireless charge
There's something special about a smartphone that starts up with the Google logo. My expectations of a device that does that immediately form themsleves in my head. I expect it to feel clean on the inside with no intrusive apps I wouldn't want; I expect it to work very smoothly, and I expect it to be the best Android experience possible.
And that's exactly how I felt when I set up and began to use the Nexus 6P, the Huwaei-made Google phone.
Like many large phones, the 6P looks like it was designed for men. With this phone, it's even more so because it's got a big "visor" taking up the top edge. It houses the camera components and sticks out a wee bit, but doesn't unbalance the gadget. It does make it look very different from any other phone though.
And hey, it doesn't look bad, specially considering every other phone is barely distinguishable from any other. It has a smooth matte-finish back in a number of tone options, including gold which has just been shown off at CES recently.
That back panel doesn't open up and you just have the single SIM slot neatly sitting on the left edge. Sorry, no expandable storage. Also on the back panel is a prominent fingerprint sensor or 'Nexus Imprint' which is very quick to set up and which works snappily.
I was never disappointed with the speed with which the Nexus 6P works. It is smooth. Blazingly fast, actually. Let me go a step further and say it's the fastest phone I've used yet.
The beautifully crisp 5.7-inch 1440x2560 display has a nice range of brightness to it. You can flip through websites and visual-heavy news apps with a little touch and things just fly, it's that fast. Watching Netflix on this baby is great. If I wanted a large phone, I would pick this one because of the lightning speed with which it performs.
The Nexus 6P uses the 2GHz Octa-core Snapdragon 810 processor with 3GB RAM and 32GB storage. It runs Android 6.0.1 Marshmallow, of course. Stock Android is so special, really, because you just have no bloatware from the phone maker, neither in terms of unsolicited apps nor in terms of the interface. This is how Google meant the Android device to work.
I didn't think the 12.3Mp camera to be particularly outstanding, but I was in fact surprised to see how good it is. It's very balanced, keeping the noise down really beautifully indoors in low lighting conditions. The camera is also very fast and the images are nice and detailed and sharp.
The camera doesn't have any optical image stabilization, and you'll miss that for shooting video, but as a quick reliable camera, I think it's really impressive. The 8MP selfie cam is also very good. What an improvement for a camera on a Nexus phone.
The 3,540 mAh battery holds up through the day just beautifully. It supports fast charging, but doesn't have wireless charging. You might say it's expensive at Rs 39,999 but on the other hand, phones that don't work as well cost much more.
The author is a corporate consultant who likes her gadgets almost more than her shoes. Write to her at [email protected]
TAGS: Nexus 6P