Should BlackBerry Fret Over Samsung's Keyboard Accessory? | TechTree.com
Should BlackBerry Fret Over Samsung's Keyboard Accessory?
Samsung is prepping to launch the Galaxy S6 Edge Plus with a keyboard accessory.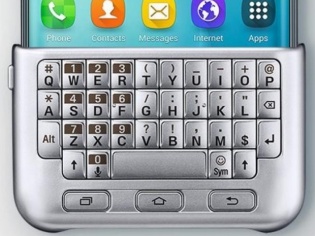 Ever since the iPhone hit the market, every company jumped onto the touchscreen smartphone bandwagon. BlackBerry did that too, but kept churning out physical QWERTY handsets for its loyal user-base. A few years back, many Android handset makers including the mighty Samsung ventured the QWERTY territory with a little luck. Now it seems the Korean-giant is planning to revisit this market with a different approach, as what appears to be a press shot of Samsung's keyboard accessory is doing rounds over the Internet.
The tip comes from the famous "leakster" Evan Blass (A.K.A. evleaks) who is mostly right on the money. Evan has tweeted the image of a snap-on keyboard accessory accompanying what seems to be the Samsung Galaxy S6 Edge Plus. This physical keyboard might provide a great typing experience, but going by the image, it definitely looks weird. Plus, it also covers a significant portion of the screen. The keyboard seems to be made of metal, which should go well with Samsung's upcoming flagship phone's premium build.
S6e+ keyboard cover -- clever. pic.twitter.com/4eAJKPq9ph

— Evan Blass (@evleaks) August 7, 2015
While there is definitely a market for QWERTY handsets. I doubt if any of such customers would want to spend money on an expensive touchscreen phone and then shell out more for physical keyboard. I would rather buy a BlackBerry Classic, but then the world is a weird place, so there's a chance for such device to do well.