Leaked Moto X (2015) Images Show Front-Facing Flash & Fingerprint Reader In Speaker | TechTree.com
Leaked Moto X (2015) Images Show Front-Facing Flash & Fingerprint Reader In Speaker
If these images are to be believed, we would be seeing a couple of design innovations that were not seen earlier.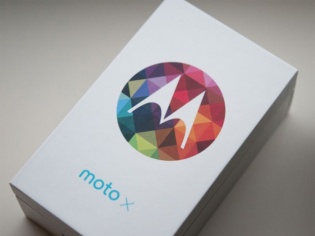 Adding to the pile of rumours on Moto X, Peruvian Facebook page 'Perú Android' has shared a couple of photographs of a Motorola smartphone which it claims to be Moto X (2015).
The Facebook page also claims to have gotten these images and details from an anonymous source and the evidence does look enticing.
The leak tells us that the smartphone may come with a 2K display and a 21 MP read-facing camera while the photograph shows us an integrated front-facing flash which we feel to be very handy when it comes to low-light selfies.
Additionally, the leak tells us about the fingerprint reader that comes placed in a very unique position unlike other smartphones which have the reader on a dedicated spot or integrated in to the home button. Motorola has it on the lower front speaker.
While many have raised questions in the comments if the Moto X is coming with a fingerprint sensor where-in users have to slid the finger on the wide front speaker, we still have no clue about it.
However, by implementing this new technique, Motorola would effectively be able to keep a low bezel-to-screen ratio and still add biometric functionality.
If the images are to be believed, we would be seeing a couple of design innovations that have never been seen before.
Also, it looks like the LED ring flash in the rear has been replaced with a paired dual LED setup.
To remind you, so far, we have been seeing rumours claiming that the Moto X (2015) would feature a Snapdragon 808 processor, 4 GB RAM, 5.2 inch QHD screen and a 3,280 mAh battery.
While these are still in the rumour mill which is going on full speed, we should be able to confirm all official details once Motorola raises the curtain off the Moto X next week.
The rumour mill is going on full speed about the Moto X smartphone and it looks like it won't be stopping anytime soon.