HTC Phones Vulnerable To Security Breach
User account information of EVO, EVO 3D, and EVO 4G may be exposed.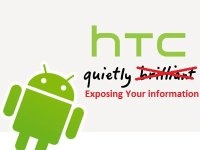 With over 250,000 applications, Android has been adopted as the platform of choice by most mobile phone manufacturers. However, some HTC smartphones are vulnerable to a serious security flaw, according to a report from DailyTech.com. Apparently, the account information of users possessing HTC phones such as the EVO, EVO 3D, and EVO 4G has been exposed. A spokesperson for HTC claimed that no such issue had come to their notice, and they therefore weren't able to confirm story's veracity. The Taiwanese cellphone major hasn't denied the existence of the vulnerability either, which leaves HTC users in uncertainty.

Various reports suggest that user data is compromised by applications that display a Permission to access prompt. This may leave user accounts, email addresses, and a history of map locations visited by the owner vulnerable to theft. To make things worse, even text messages, phone numbers, and other private information can be left exposed. This security breach has been blamed on the new data logging tools available on the phone.
TAGS: Security, Mobile Phones, Android, HTC