Genius Launches G-Shot DV800 Camcorder | TechTree.com
Genius Launches G-Shot DV800 Camcorder
Rs 5000 video camera records HD video at 30 fps.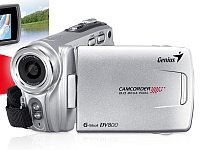 Taiwan-based Genius has launched G-Shot DV800, an affordable digital video camera. It features an 8 MP CMOS sensor, which allows it to shoot videos at 30 fps in 720p HD format, and is priced rather affordably at just Rs 5000. The DV800 is capable of shooting still images as well, with up to 16x digital zoom. While this may sound impressive, bear in mind that the zoom isn't optical and hence the software-interpolated results will not be spectacular.
Genius claims a 90 minute recording time on a full charge, in addition to features such as face detection and a 2.4" colour LCD display. Unlike expensive camcorders that record on digital tapes, optical drives, or hard drives, the DV800 features an SD card slot supporting up to 32 GB. This is in addition to 32 MB of onboard flash memory, which is woefully inadequate for video. Yes, that translates into hidden expenditure in the form of an HD video-capable high-speed SD memory card. Then again, for an asking price of Rs 5000, that's nothing to complain about. The unit is backed by a warranty of two years.
Specifications:
8 MP digital video camera records 1280x720@30 fps.
Built-in 32 MB flash memory (16 MB available for image storage).
Supports SDHC memory cards up to 32 GB.
Face Detection.
LED Light.
Recording in AVI \ M-JPEG formats.
2.4" TFT colour display.