Facebook Faces Privacy Suit
Group accuses FB of breaching privacy laws by tracking its users.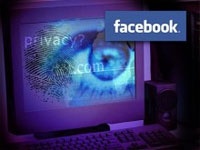 Social networking giant Facebook has been named by a privacy group in a class-action lawsuit of secretly tracking the internet activity of its users even after they log out of the service. The lawsuit was files in a San Jose, California federal court, and FB has admitted to the guilt.

The complaint stated that cookie files installed on the users' computers to identify them and track their interactions with FB apps and websites while they are logged in continue to work as before even after the users log out. Interestingly, FB has admitted on September 26, that this is indeed true.

"This admission came only after an Australian technology blogger exposed Facebook's practice of monitoring members who have logged out, although he brought the problems to the defendant's attention a year ago", states the complaint. The complaint also asks the US Federal Trade Commission (FTC) to examine whether FB's new Timeline and Ticker features increase privacy risks of users by combining biographical information and making it easily accessible. FB spokesman Andrew Noyes has stated, "We believe this complaint is without merit and we will fight it vigorously".

We do think that FB is guilty of keeping tabs on users' surfing habits even after they log out. However, we don't feel the same about its new Timeline and Ticker features because they only show information which has already been made publicly available by users and is only visible to friends. The complainants seem to be going a little paranoid about the last accusation. Do let us know what your opinion is in the comments section below.