Nokia Lampoons Apple In Lumia 900 Campaign | TechTree.com
Nokia Lampoons Apple In Lumia 900 Campaign
Mocks iPhones as "beta phones"; takes potshots at the death-grip issue.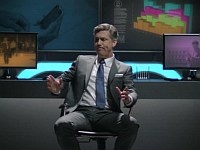 Nokia's launching an invasion of sorts on the American market with the impending launch of the Lumia 900 LTE on the 8th of April. The Finnish cellphone maker has evidently been taking the US market seriously, as it's on a war footing with a marketing campaign that's aptly dubbed Operation Rolling Thunder. It takes the tried-and-tested route of lampooning the market leader - the iPhone. The marketing blitz kicked off with comedian Chris Parnell arguing that the American market may have been supplied with "beta phones". That's a potshot at the teething troubles seen in the recent iPhone models.
What little ambiguity left as to which phone maker Nokia insinuated with its teaser commercial, was cleared with three more videos titled Outside, Fragile, and Death Grip. No points for guessing that these videos point to the iPhone's woes with outdoor visibility, propensity to shatter when dropped, and the infamous antenna issues. The icing on the cake is how the Death Grip video doesn't even spare the late Apple CEO, who's referenced as Steven P. Jobs parroting the famous line: "You're holding it wrong!".
Naturally, the right thing to do now, is to grab some popcorn, watch these videos, head over to your favourite mobile forum, start a thread inviting Nokia and Apple fanboys to duke it out over the videos, and then sit back and enjoy the show.