Google Launches Smart Lock Password Manager On Android
Smart Lock makes it easier for users to log in to third party apps.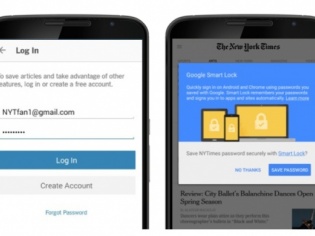 Google has launched a new Smart Lock Passwords Manager with an aim to make it easier for users to sign in to third-party Android apps.
Speaking about Smart Lock, we can clearly sum up that the service basically does what Chrome already did on the web, but for apps.
This means that Smart Lock will eventually ask you whether you want to save the password when you login to any app.
Now, suppose you get a new device, then the Smart Lock feature will pre-fill the required credentials as it already knows what the password is for the particular app just as in Google Chrome.
It is being said that for now, Google has worked with apps like Eventbrite, Instacart, Orbitz, LinkedIn, Netflix and New York Times to pilot this project.
Well, it seems that the Smart Lock might definitely help apps and sites increase their sign up and sing in rates keeping in mind the annoying thing of entering passwords on mobile everytime.
TAGS: Google Smart Lock, Google I/O 2015