Offline Maps And Now On Tap Unveiled By Google at I/O 2015 | TechTree.com
Offline Maps And Now On Tap Unveiled By Google at I/O 2015
Users can now download complete maps along with voice navigation system allowing easier access.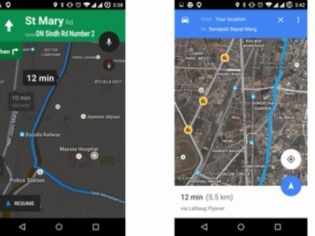 Following what Google did with YouTube, the Internet giant is now planning to bring the Maps' search and turn-by-turn navigation feature offline.
The announcement was made by the company at its I/O conference 2015 along with other major announcements by the company.
With the latest feature, we can not only expect the maps to go offline, but in-fact, it is being said that the turn by turn voice navigation feature shall also be downloaded.
We believe this feature to be a great step which is of relevant importance especially in regions such as India where cellular connectivity may not always be speedy at all times while driving.
While the office maps navigation might help out users in saving data charges, it is pretty important to keep in mind that taking a map along with all the navigational information offline will certainly take up significant space on your device's storage space.
Along with offline maps, Google has come up with an improvised 'Now' along with a feature called 'Now on Tap'.
The new feature will basically let users to access the personal assistant without actually having to leave other works. Instead, users can now simply tap and hold the home button for assistance.
TAGS: Google Now, Google Maps, Google I/O 2015