Smartphone With 6,000 mAh Battery Is A Possibility | TechTree.com
Smartphone With 6,000 mAh Battery Is A Possibility
Innos D6000 comes with 2 batteries totaling up to 6,000 mAh capacity.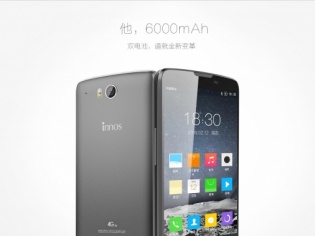 We are nowadays witnessing smartphones with better specifications everyday, be it the processor, RAM, internal storage space or camera.
However, somewhere or the other, companies are still lacking behind to create smartphones with battery life that could surpass the one day limit.
But wait! There seems to be a smartphone we have never heard of, the Innos D6000 which comes with a whopping 6,000 mAh battery promising its users to give 3 to 5 days of heavy usage.
The Innos D6000 basically comes with 2 batteries; internal battery with 2,480 mAh capacity with another battery of 3,520 mAh capacity on top of it.
DuaCharge technology inside the phone help us charge both the batteries simultaneously over the new reversible USB 3.1 Type-C port.
Coming to the size of the smartphone, since it comes with 2 batteries, the thickness measures to somewhere around 11.9 mm thickness.
Coming to the other specifications of the smartphone, it boasts a 5.2" 1080p display with Gorilla Glass 3, a Snapdragon 615 Chipset coupled with a 3 GB of RAM and running on Android 5.0 Lollipop.
The smartphone also gets a 16 MP primary camera and a 5 MP front camera with dual SIM support.
While the smartphone is still not available in India, we at least know now that having a great battery is possible and we expect in the Indian mobile market pretty soon.
Yet, the question that arises is that - do we really need a smartphone with dual batteries when we have options like power banks with 10,000 mAh capacity?! Only time can answer this.
TAGS: Innos D6000