Motorola Launches Two Affordable Android Phones
Both come with Android Gingerbread.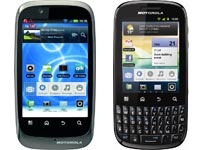 Motorola has launched two new Android phones aimed at the budget-sensitive but lucrative Indian market. The slim handsets are FIRE XT and FIRE, both powered by Android Gingerbread.

Mobile Devices Business Country Head-Sales And Operations, India And South West Asia For Motorola Mobility, Rajan Chawla said, "Smartphones have become an integral, personal part of users' lives that's why Motorola believes they should be fun, fashionable and feature-packed. With easy multitasking and contact management, faster and easier interactions, the Motorola FIRE XT and Motorola FIRE make for a great mobile experience at a great price for the young, fast-moving users who want everything from a top-quality smartphone".

The Motorola FIRE XT is the more expensive of the two, with a 3.5" HVGA touch screen. It is powered by a Qualcomm MSM7227 800 MHz processor with Adreno 200 to take care of graphics, while the RAM is 512 MB. The camera is a 5 MP with auto-focus. It also features Wireless N and HSDPA support, GPS, and FM radio.

The second and less expensive phone is the FIRE, with a portrait QWERTY for input in addition to a smaller 2.8" QVGA touch screen. It is powered by a slower Qualcomm MSM7227 600 MHz processor with Adreno 200 graphics and 256 MB RAM. The camera on this device is also scaled down to a 3 MP. The rest of the features are the same as that of the FIRE XT.

The Motorola FIRE XT and FIRE are available at select outlets in select cities at MRPs of Rs 13,890 and Rs 9,990 respectively, with a 1-year warranty. However, the phones are retailing online at certain outlets at Rs 11,999 and Rs 8,660. Motorola aims to concentrate on the budget segment of the Indian consumers which is the most active and therefore the most profitable. If these two new handsets take off well, then it will mark a new era of profitability for the troubled company.
TAGS: Mobile Phones, Motorola, Android, Jayesh