Google Brings Now Cards To Its Users From 70 More Apps | TechTree.com
Google Brings Now Cards To Its Users From 70 More Apps
Some of the apps include Circa News, Sleep as Android, Komoot, and Wunderlist.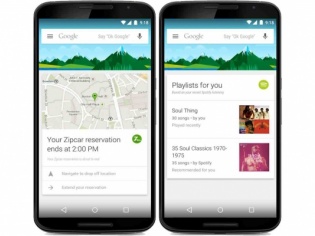 We are pretty well aware that Google had announced about the third party apps integrating with Google to bring its users Google Now cards.
Supporting this, in January, around 40 apps were pulled in to the integration with Google Now.
But, now, it looks like the Internet giant is looking forward to bring in 70 more apps to its Google Now to give its users better experience.
Google's Inside Search blog has published an example that "if you book a Zipcar out for a day hike, you can keep track of your return time and get directions to the drop-off location with Now cards – checking them is as easy as a simple tap on the Google app."
So, now, with the new integration, users can expect more from the Now cards.
These are a few ways how Now cards can help you out:
Get breaking news about the aftermath of the Nepal earthquake from ABC News, Circa, or feedly.
Know when your pad that is about to arrive with reminders from Eat24 that the food you ordered will soon be on your doorstep, or get inspired with the recipe of the day from All recipes.
Keep your fitness goals front and center with gentle nudges from Runkeeper, Jawbone, or Adidas.
And if you're out to dinner, simply tap on a Now card to pay your bill with OpenTable.
However, to experience more Now cards, all you need to do is update to the latest version of the Google app and your other favourite apps that work with this feature.
TAGS: Google