Google Desktop Search Now Allows You To Send A Note Or Set An Alarm | TechTree.com
Google Desktop Search Now Allows You To Send A Note Or Set An Alarm
These work similar to the existing 'Find My Phone' and 'Send Directions' by Google Desktop Search.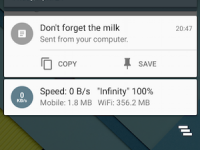 Continuing its efforts to integrate desktop with Android, Google has recently rolled out features 'Note to Self' and 'Set an Alarm'.
To remind you, Google had previously rolled out similar features - 'Find My Phone' and 'Send Directions'.
These features can be easily accessed by just typing in a phrase on to your Google desktop search and the best part is that they can be shared to your Android smartphone.
However, keep in mind that to use this feature, you will be needing the latest version of the Google app for Android, Google Now cards and notifications need to be enabled, Web & App Activity has to be enabled in Google Account History.
Another main requirement is that you need to be logged in to your Google account to use these new features.
Here's how you can 'set an alarm' or 'send notes' to your Android Phone from Desktop:
First you need to simply type in "send a note" or "set an alarm" in the search bar or Google homepage and click search.
Soon, the Google search results page will display a play card. For alarms, you will see big numbers with the time and all you have to do is set the time you want an alarm, then click 'set alarm on phone'.
It then takes a few seconds to process and then you will see that it has completed and your phone will now have a new alarm set.
Now, if you need to send a note, you need to simply type the note you want and send it. You will receive a notification on your phone with the note.
From here you can either copy the note, or save it. Once you save it you can share it through various apps that you have installed on your phone.
TAGS: Google