New Opera Mini Browser Update Available For Android Users | TechTree.com
New Opera Mini Browser Update Available For Android Users
With this update, the Opera Mini seems to behave a lot more like a native Android web browser.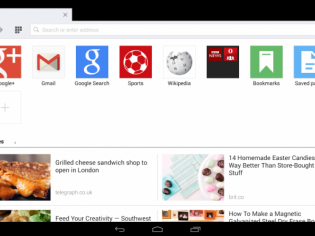 Opera Mini browser has recently come up with a new update to attract more users and survive the competition against other mobile browsers like Chrome and UC Browser.

The new updated Opera Mini comes in with a new user interface designed to help users get around the software and on to specific web pages more easily.

Also, users can experience an "overhauled" Speed Dial feature for managing bookmarks with customisation options to make it easier to use on different devices.

The update also seems to have made the browser more responsive among different devices with a scalable interface that automatically adapts to a tablet or large-screen smartphone and ensure that the application and web pages look perfect on those devices.

One more important point worth noting about the new update is that, it is now made available for devices with Android 2.3 and higher making the application available for the old-school Android users too.


This updated browser we feel to be an answer to low-powered smartphones and tablets and we can also expect this to be specifically designed for emerging markets around the world.

According to CNet, the new Opera Mini Browser comes with an ability to compress the data to as little as 10 percent of its original size to make it load more quickly and use up less of a person's limited data allocation.

This, as we all know, looks like a very important feature as we all are aware how much of data would many of those huge websites eat up in our Internet plan.

With this update, the Opera Mini seems to finally start behaving like a native Android web browser.

You can download the new Opera Mini Browser here.

SOURCE