Scientists Install Webcam On Mt Everest
Will help researchers as well as couch potatoes keep an eye on the highest mountain.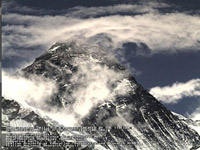 As part of the Everest Share 2011 research project, scientists from Bergamo, Italy have installed a type M12 MOBOTIX camera on Kaala Patthar (5675 metres), near Mount Everest. This makes it the highest live cam ever installed. Apart from aiding scientific research, it will enable curious people to keep track of the Yeti's routine.

The installation was carried out by Italian engineers together with the Nepalese Ev-K2-CNR team, and was co-ordinated by Giampietro Kohl. At these altitudes, the M12 has to withstand temperatures as low as -30 degree C. Last time I checked, the camera was (a)live and recording stunning images of the 8,848-meter tall peak. The camera uses a wireless connection to transmit images to the Ev-K2-CNR Pyramid laboratory \ observatory located at an altitude of 5,050 meters. Here, the video gets analyzed and forwarded to Italy for further studies. Researchers hope to learn more about climate change and global warming (hyped as much as Apple's products) using this video and the meteorological data gathered by the world's highest weather station (8,000 meters) on Everest.




The webcam is only active during daylight hours (0600 to 1800 hours Nepalese time, which corresponds to 0630 to 1830 hours IST), and you can view the live feed by clicking this link.