WhatsApp To Backup Chat History With Google Drive Integration | TechTree.com
WhatsApp To Backup Chat History With Google Drive Integration
While things may be easier on iOS, Android backups are getting there.
WhatsApp's translation group indeed reveals a lot of information about their upcoming plans, letting out information in exchange for in-app text translation.
Today's discover certainly comes across as something fresh. This is because WhatsApp's apps seem to show no new developments lately; especially after Facebook took over (Facebook Messenger now has apps and is now a platform in comparison).
The news has to do with the tedious process of backing up chat data, which is more of a task on Android smartphones (iOS is a lot easier).
The translation queries reveal that WhatsApp is looking to backup all of your chat data securely to your Google Drive account.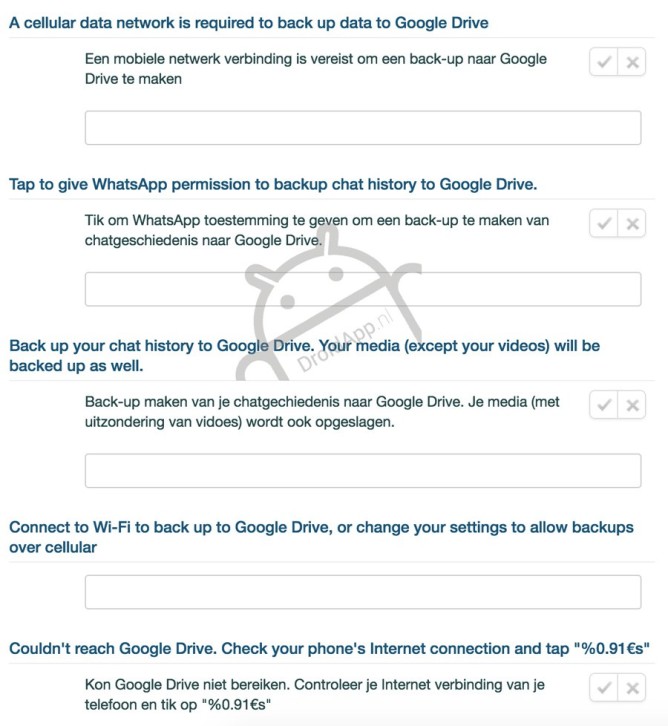 This is good news indeed, as you will no longer have to download the backup files from your device and then transfer them to your computer, only to paste them back on your new smartphone.
Your files according to the leaked information, will soon be conveniently backed up to your Google Drive account, making the transfer and restoration of chat data backups, convenient.
While not many of us would change our phones frequently, it indeed makes sense as backing up all those chats, images and videos from time to time is not something that everyone does.