Taj Mahal One Of The Top Google Street View Destination | TechTree.com
Taj Mahal One Of The Top Google Street View Destination
It is at No. 3 in Street View destinations in Asia behind Japan's Hashima Island and Mount Fuji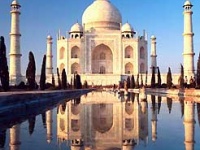 Taj Mahal is one of the most sought after destinations in the wold and now it has emerged as third most sought after virtual destinations in Asia on the Google Street View.
Japan is the most visited place on the Googls Street view and occupies seven of the top-10 slots, while Cambodia occupies two.
Taj Mahal in Agra is one of the UNESCO World Heritage site which attracts visitors all around the world.
"Taj Mahal has emerged as one of the most popular Asian places for global virtual travellers. The fascination with this grand, symmetrical white marble mausoleum also holds within Asia, with the Taj Mahal ranking as one of the most globally viewed destinations by people in Singapore, Australia, Korea, Philippines, Malaysia and of course, India," a Google statement said.
Street view of the Google Map and Google Earth allows the users to view the place in 3D, it just like you are visiting the place and seeing it. The interface of the Google Street view allows you to see the places in 3D view.
In India, the Google Street View does not work in the regular cities due, as it does not have the permission. But Google has partnered with Archeological Survey of India and has 3D view of more than 100 monuments in India.
Taj was added to the list only in 2014 and has since been one of the most favoured destination.
TAGS: Google, Google Street View