Asus Has Unveiled Its ZenFlash and LolliFlash | TechTree.com
Asus Has Unveiled Its ZenFlash and LolliFlash
ZenFlash is a 'Xenon flash dongle' while LolliFlash is a 'Dual-tone LED Torch'.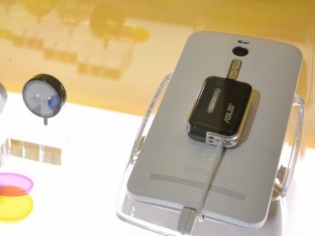 Taiwanese mobile giant Asus has recently announced its latest smartphone ZenFone 2.

Along with it, two new accessories for the smartphone have been unveiled namely ZenFlash and LolliFlash.

Coming to the features of the accessories, ZenFlash is a 'Xenon flash dongle' which can be connected to a smartphone using USB. It can stick easily to the rear panel of the smartphone and is believed to provide at least 400 times brighter flash than the LED flash.

Also, the LolliFlash is a dual-tone LED torch for the phones which is shaped as a Lollipop.

There are also many rumours which tell that the LolliFlash comes with its own battery and can be bonded to the smartphones through the headphone port.

LolliFlash is expected to be available in Blue, Yellow and Red Colour.

No further details about the accessories have been provided as of now and also the price has not been revealed.
TAGS: ASUS Zenfone 2