AOC Comes To India With 3 New Android Devices At Affordable Prices.
The company has launched D70V50G 7-inch tabelt, M601 6-inch Phabelt and E40 4-inch smartphone in India.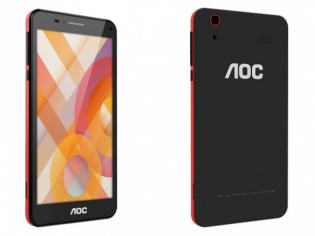 AOC International, a multinational electronics company has stepped into the mobile devices market in India with its reasonable D70V50G tablet.

Priced at Rs. 7,750, the voice calling slate is equipped with a 7-inch display and powered by a 1.3GHz dual-core processor.

The tablet runs on Android 4.4 KitKat and hosts a 2MP rear camera along with a VGA front snapper.

AOC has surely produced a beat of a product for such a reasonable price which comes with 1GB RAM and 4GB storage along with Dual-SIM Support.

The tablet has a huge 3000mAh battery which should be able to provide a great experience for the users.

Along with this, the Taiwan-based company AOC which is famous for its monitors has come up with 2 smartphones - AOC E40 priced at Rs. 4,490 and M601 phablet priced at Rs. 7,990.

It is worth nothing that the E40 has a 4-inch display while the M601 comes with a 6-inch display.

The E40 is powered by a 1.2GHz dual-core processor and comes with a 512MB RAM and 4GB storage which is expandable.

Also, it comes with dual cameras - 2MP on the rear and VGA at the front.

While the E40 is the cheapest and entry-level budget smartphone by the company, the M601 phablet is its much larger and smarter sibling.

The M601 comes with 1.3GHz dual-core processor, 512MB RAM, 8GB expandable storage, 2100mAh battery, VGA front camera, 5MP rear camera and runs on Android 4.4 KitKat.

However, lastly, we feel that there is no much difference between the M601 phablet and the D70V50G tablet.
TAGS: AOC