Download: Google Inbox Comes To The iPad And Android Tablets | TechTree.com
Download: Google Inbox Comes To The iPad And Android Tablets
After a long wait, the Google Inbox experience on a bigger screen is not what we expected.
Clearly, not everyone today is a fan of Google's Inbox service. While you still have to get an invite, I do have plenty of them and no one to give it out to. But Google thinks its awesome and lets just keep it to that for now. This is because the search giant has finally rolled out the the app for bigger screens like the Apple iPad and Android tablets.
To begin with, the interface keeping in line with Google's Material Design theme seems to be the same for both. While this may not be a big deal for Android users, iOS users who already have third-party options like the recently released Outlook apps, indeed seem to do a better job by keeping things simpler.
We must agree that while the app looks similar to the web app, many who have switched over (for a fancier inbox) will get a better view of your emails and the content in them at a glance.
Indeed it makes more sense to view Inbox on a larger screen compared to a crammed 5 inch one on your smartphones.
So yes, everything can be dismissed at a glance with a couple of swipes, but again coming back to iOS it makes no sense; as the app is not optimised to take advantage of that big display (there is a lot of scrolling). Moreover if Google is looking at delivering an iOS app they need to make a couple of changes like Microsoft has done with Outlook.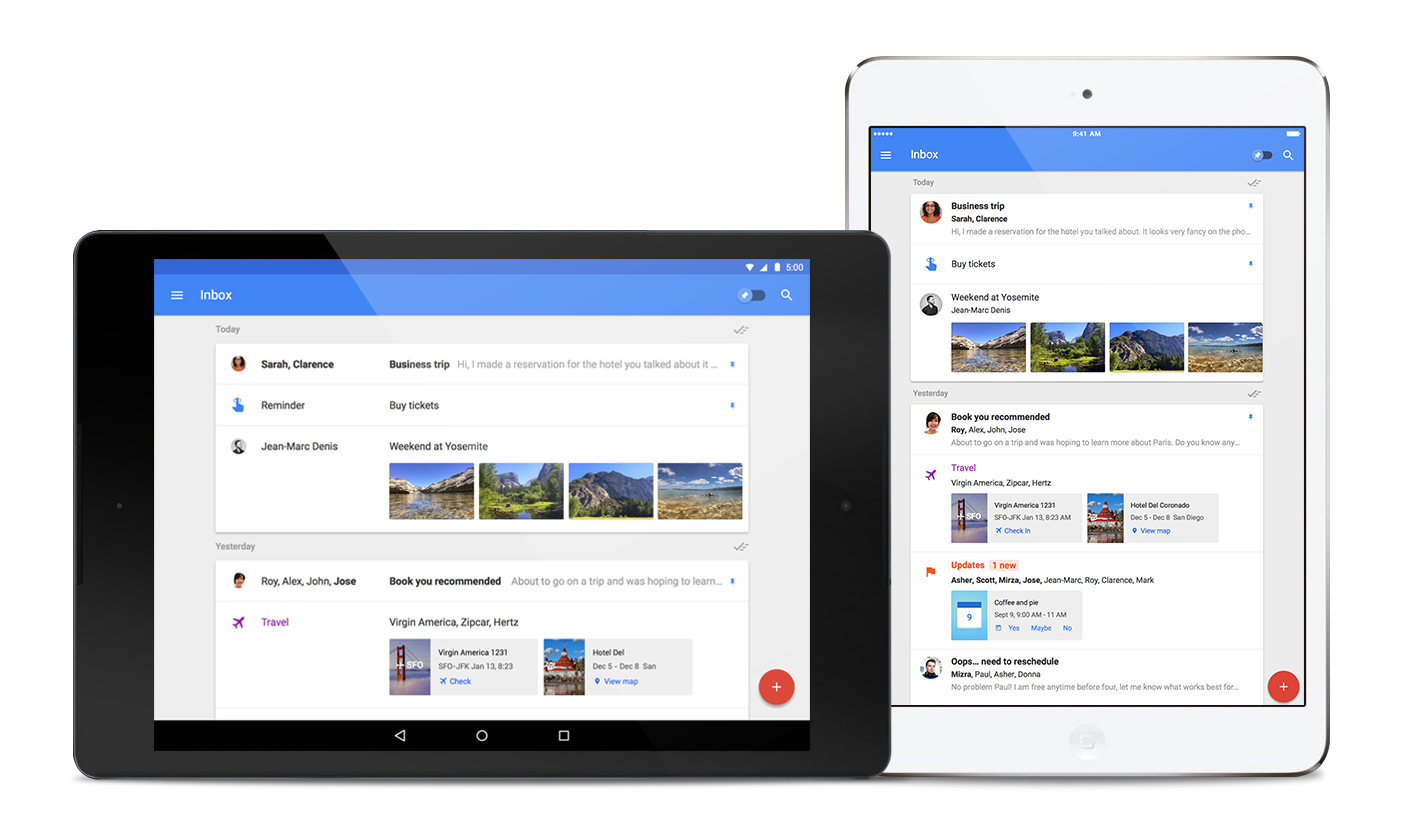 If Google believes that Material Design elements should remain consistent across screens, then they should be focussing on the Gmail app instead of Inbox for iOS, as it is indeed not the solution.
As for Android owners, who will find it more at home, it still makes a bit of sense as optimisations are indeed not something that owners of 5 inch plus screen are used to (things just get scaled up).
Still then, we are pretty sure Inbox has a long way to go when it comes to adding more features and becoming a practical email client for power users.
Till then the regular Gmail app makes more sense for now.
Name: Inbox
Developer: Google
Platforms: Android, iOS
Size: Varies with device, 33.9 MB
Download: Play Store, iTunes