New Aakash Tablet Will Launch Next Month
Will feature capacitive screen, faster CPU, and twice the RAM as before.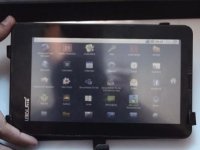 The new and improved Aakash tablet is all set for an April launch. According to HRD minister, Kapil Sibal, despite the hardware upgrade, the new version will have the same price tag as that of the original.

For starters, the gadget will feature a capacitive touchscreen instead of a resistive one. Under the hood will be a Cortex A8 CPU clocked at 700 MHz. The RAM would also be upped to 512 MB. It's claimed that the device's 3200 mAh battery will keep it running for about 3 hours. The picture isn't as rosy on the software front though, as the new Aakash will be based on the old Android 2.2 (Froyo). On the bright side, it has been speculated that the tablet will have access to the Android Market, now known as the Google Play Store. Sibal said that the first wave of one lakh (lac) tablets will be provided to students from higher technical educational institutions, to garner feedback.

The new Aakash surely has better hardware than the original. However, specs-wise, it's still no match for the PAC-PAD 1.