RIM Confirms BB10 For Playbook
Refuses to give up on the ailing tablet.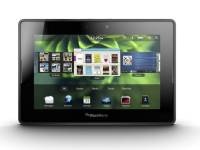 RIM has reportedly confirmed that the new BlackBerry 10 OS will be made available for the PlayBook, when it is ready. Initially, it was stated that BB phones will receive the new OS by the end of 2012, and it was only logical that the tablet also received the same. After the recent price drop, we think that a new OS update should make the tablet more attractive.
RIM's VP of Product Management Rob Orr said, "At some point after the launch we'll bring BB10 to our PlayBooks, yes". The company says that more than half of its existing PlayBook users upgraded to the new PlayBook 2.0 operating system, right on the day of its launch. This new update had brought native email facility to the tablet, which was missing earlier and had drawn much criticism. Orr added, "It's actually quite different to our smartphone users, who are a little bit tentative to take software updates. But as we move into this new world of mobile computing, frequent updates and auto updates bring in new features and new functions - and that's the way forward. It's been really positive to see". While we hope that the new update will help make the tab more interesting, it would have been much better if the company would have rather paid a bit more attention to its App World instead.
TAGS: Tablets, BlackBerry, Jayesh