Creative Announces Its Portable Sound Blaster Roar Speaker In India | TechTree.com
Creative Announces Its Portable Sound Blaster Roar Speaker In India
Packs in quite a punch considering its size.
Creative has finally announced its Sound Blaster Roar Bluetooth speakers for the Indian market. The much-acclaimed portable speakers that were announced at CES Las Vegas have been getting rave reviews worldwide. More so it is the packaging of the product that also won itself a RedDot Design Award last year.
The Creative Sound Blaster Roar speakers are indeed unique in a way. Creative has managed to pack in two speakers and one sub woofer in a package the size of a portable radio, making it portable and powerful as well.
This all thanks to Bi-Amplified design that utilizes two amplifiers – one dedicated to driving the lows and mids, and another dedicated to delivering the highs. Also present is the Roar feature that boosts volume levels for parties, while maintaining clear audio.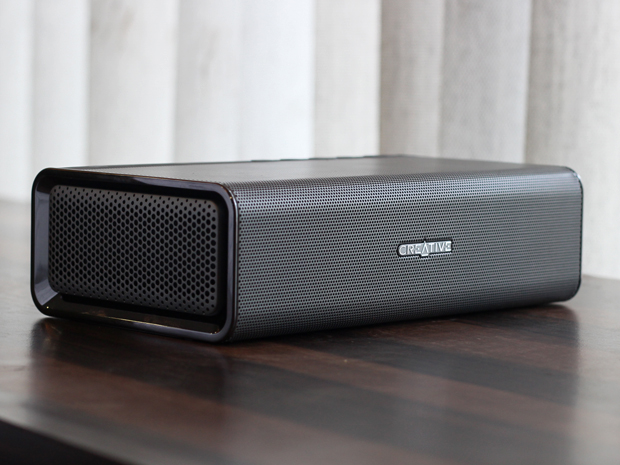 TeraBass is another interesting feature that intelligently compensates for the perceived lack of loudness in bass during low level audio playback, without artificially over-accentuating bass levels.
But there's more. The speaker can run for 8 hours at a stretch thanks to its 6000 mAh battery. Moreover, it can even provide power to smaller devices like a mobile phone as a portable charger. Power options aside, the speaker accepts micro SD cards for music playback and is also capable of record audio thanks to a built-in mic and dedicated buttons.
More importantly if you need to use two of them, you can utilize them in MegaStereo mode. This will allow you to play two Sound Blaster Roar speaker using an optional cable.
The Creative Sound Blaster Roar will go on sale exclusively on Amazon India starting today and will retail for Rs 15,999.
TAGS: Speakers, Bluetooth, Creative, Creative Sound Blaster Roar