Acer's Aspire R 13 Goes On Sale In India | TechTree.com
Acer's Aspire R 13 Goes On Sale In India
Packs in the best of the best and a high price tag as well.
Acer has announced its Aspire R 13 convertible notebook for the Indian market. The notebook that was unveiled at IFA Berlin 2014, comes with an odd-looking hinge mechanism called the Acer Ezel Aero Hinge, that allows users to utilize the notebook in six different usage modes.
The company has created a device that literally transforms from a notebook to a tablet and also to a desktop depending on the user's needs. The Ezel hinge easily allows for the laptop that is just an inch thick (17.95 mm to be precise) to turn into a tablet that can be used with the optional Acer Active Pen as well.

Acer's Aspire R 13 can be used in 6 different modes. There is usual Notebook mode for work, an Ezel mode that allows for easy reading when placed on a table, then there is the Stand mode which allows a user to use the touch screen. The Pad mode takes care of casual browsing and gaming just like a tablet. A Tent mode is available to set up the device in crammed spaces like an airplane seat and finally a Display mode for viewing movies or reading on a table.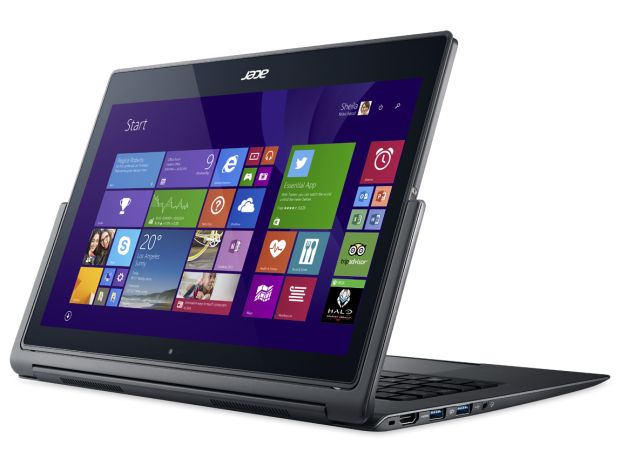 What is impressive about the Acer Aspire R 13's Ezel Aero Hinge is that it will not budge in the Stand mode even when the display is suspended. This is thanks to Acer's patented dual-torque system hinge, that keeps the display stable and in place when touch navigation is used.
As for the hardware on the Aspire R 13:
We get a FHD (1920 x 1080 pixel) 13.3 inch display that includes a tough layer of Gorilla Glass 3 on top
Inside we get a 4th Generation Intel Core i5 processor with up to 8 GB of RAM
The notebook comes with 512 GB SSD with RAID-0 support
Being a tablet and notebook means that the device also includes a capable front-facing camera as well
The notebook comes pre-loaded with Windows 8.1 and will be available at all Croma retail stores at a starting price tag of Rs 83,999 for the base model.
TAGS: Laptops, Windows, Acer, Acer Aspire R 13