Epson Launches Four New Projectors
Feature-packed devices are targeted at home users.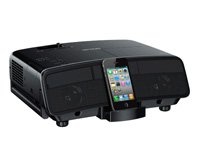 Epson has introduced four new projectors for users who prefer big screen entertainment at home. The new additions come with interesting features such as 3D projection and iPhone compatibility. According to the company, the EH-TW6000 is the world's brightest 3D home theatre projector. The device has a frame refresh rate of 480 hertz, which should minimise flicker. Additionally, this projector features an auto colour mode and a pair of 10 watt speakers. The EH-TW6000 is expected to retail at around Rs 1,10,000.

The MG-850 is reportedly the first projector that plays well with Apple devices such as the iPhone, iPod touch, and the iPad. Just connect your iDevice to MG-850's dock and you're ready to beam the movies right from your handset. The MG-850 will be available for the price of Rs 50,000. Apart from that, Epson has also unveiled an "all-in-one" projector called the EH-DM30HD, which comes with a built-in DVD player. This projector will cost you around Rs 52,000. Finally, the EH-TW480 features Epson's 3LCD technology, which is said to produce sharper and clearer images. This gizmo will set you back by around Rs 48,000.