Xiaomi's Redmi Note 4G Goes On Sale On December 30
Court battles clearly cannot stop this company from moving forward.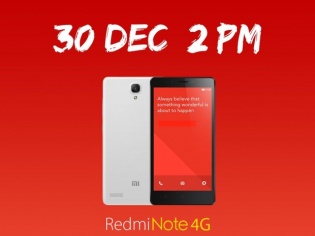 Xiaomi is in the news these days for all the wrong reasons. While its tiff with Ericsson continues, the smartphone maker has decided to keep fans happy by delivering the next best thing when it comes to the Redmi Note, the Redmi Note 4G. Since the company is currently not allowed to sell the MediaTek-powered Note in India, it decided to go ahead and deliver its first budget 4G offering in the Indian sub continent instead.
The date is set for the 30th of December and the sale begins at 2PM. While many of you will rush to register for the sale online, you could also try looking offline for the same. As made official by Airtel earlier, the company will be selling a certain percentage of 4G enabled smartphones in Airtel stores all over the country as well. So if you are hell bent on getting a Note 4G, you better check up at your local Aitrel customer care center as well; although you first have to have an Airtel carrier connection for that to happen.
While we were not that impressed with the Redmi Note thanks to performance issues, we are pretty sure the Qualcomm silicon inside the Note 4G will cover up the dark spots.
[Also Read: Xiaomi's Redmi Note Review]
The handset will retail for Rs 10,000 and you get some interesting hardware to play around with; all packaged in that glass and plastic construction. We will remind you that the Note 4G comes with 8 GB of internal memory that can be expanded (up to 64 GB here) and a single SIM slot unlike the 3G version of the Note. For a complete list of differences between the two phablets, we suggest you head here.
TAGS: Mobile Phones, Android, Xiaomi Redmi Note, Xiaomi Redmi Note 4G, Xiaomi