Motorola's Moto 360 Begins Receiving The Lollipop Update | TechTree.com
Motorola's Moto 360 Begins Receiving The Lollipop Update
A refreshed UI, some new useability features and support for custom watch faces are the highlights of the update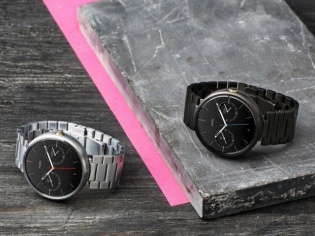 Motorola's take on the Android Wear smartwatch – the Moto 360 – is undoubtedly one of the most popular devices of 2014, and in keeping with its unofficial flagship status Google made it the first one to receive the Lollipop update.
The Internet giant announced back in November that devices running on its new platform (Android Wear) will receive the Lollipop update, and now that time is here. The biggest difference users of the Moto 360 will witness is a thorough overhaul of the user interface, which is now in-line with smartphones running Android 5.0 Lollipop.
Another welcome upgrade is the support for third party watch faces on the Moto 360 which Google had promised. Users will be able to download the app from the Play Store and install them via the accompanying Android Wear app or directly from the device itself.
Other features that come along with the Lollipop update includes something called 'theater mode', that keeps the screen off until a user actually presses on the physical button on the device. There's also improved battery and storage statistics, which will let users keep an eye on the performance of their devices.
While the Lollipop update for the Moto 360 is out, it will roll out to all users over the next few days. Manufacturers usually roll out updates in a staggered manner, so don't fret if your Moto 360 hasn't got its Lollipop makeover just yet.
TAGS: Motorola, Moto 360, Android Wear, Android 5.0 Lollipop, Google