Nest's Thermostat Will Soon Respond To Voice Commands Via Google Now | TechTree.com
Nest's Thermostat Will Soon Respond To Voice Commands Via Google Now
The feature will be part of the "Works With Nest" program that's expected to debut this Fall
Google's acquisition of smart thermostat and smoke alarm maker Nest promised a future of being able to control home devices through smartphones via Google Now. According to Droid Life that day may not be far as the "Works With Nest" program is now official, enabling a range of devices to interact with those made by Nest.
The company has announced that by Fall this year we should be able to say something on the lines of "OK,Google, set the temperature to 72 degrees" and watch our Nest thermostat change the temperature. The integration isn't complete just yet, but it seems to be just a step away from becoming a reality.
A Droid Life reader has confirmed that if you tell Google to set the temperature on your Nest device, it tries to complete the task, but fails. The failure should eventually throw up a prompt that needs you to authorize your Google account to work with the Nest device, and unfortunately is the step that needs to go live.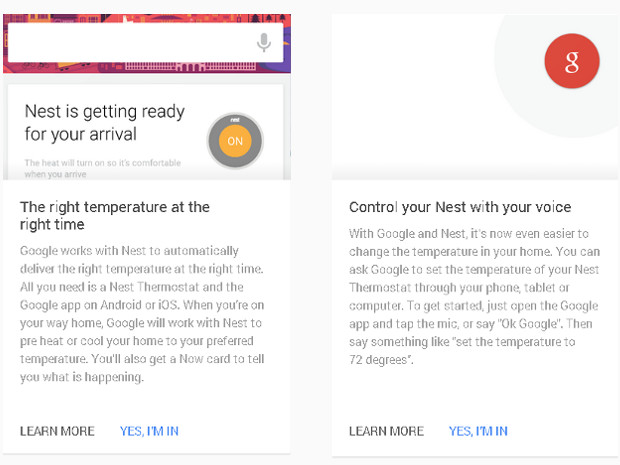 Merely setting the temperature won't be the only way the Nest thermostat integrates with Google Now, it will also recognize when you're on your way home and will set your preferred temperature. The option will be accompanied by a Google Now card, while the integration will soon go live for the Google app on Android or iOS.
TAGS: Google, Nest, Google Now, Internet Of Things