Android 5.0 Lollipop Update Begins Rolling-Out For Moto G (1st Gen) | TechTree.com
Android 5.0 Lollipop Update Begins Rolling-Out For Moto G (1st Gen)
The update should be rolled out in a phased manner, so don't fret if you haven't got it just yet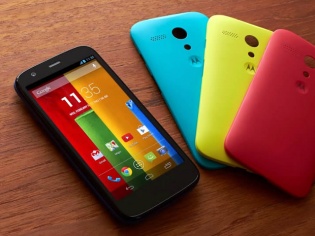 Motorola promised to treat all its previous generation devices to the tasty Lollipop update, and sure enough, reports of the Moto G (1st gen) receiving the update in India have begun to emerge. The Android 5.0 Lollipop for the XT1033 (dual SIM variant) is now available OTA and comes as build number 220.21.16.en.03.
As always, don't be alarmed if you haven't received notification of the update just yet, as they're often rolled out in a phased manner. Users will either receive a notification for the update or can check for it manually by going to Settings>About Phone>System updates, and will have to authorize the download.
Given the large file size and how taxing the download and installation process is on the battery, it's best that users plug their phone to the charger for the process. Also doing so over Wi-Fi is best, unless you want to rack up a massive mobile data bill.
Coming with the Lollipop update, users of the Moto G (1st gen) will be treated to Google's all-new material design UI, and many tiny updates. Notifications will now be displayed right on the lock screen, while the notification panel will house a few extra settings users will be able to tweak easily.
The update also promises better performance and longer battery-life, but we'll talk more about that once the update rolls out more widely. Users of the Moto G (1st gen) were anticipating the roll-out of Lollipop following last week's update for Motorola's Update Services' app, but the wait should soon be over.
TAGS: Motorola, Moto G, Android 5.0 Lollipop