Smartphone Sales In India Up By 32% In Q3: IDC | TechTree.com
Smartphone Sales In India Up By 32% In Q3: IDC
Samsung continues to lead the smartphone market in India, but Micromax is growing much faster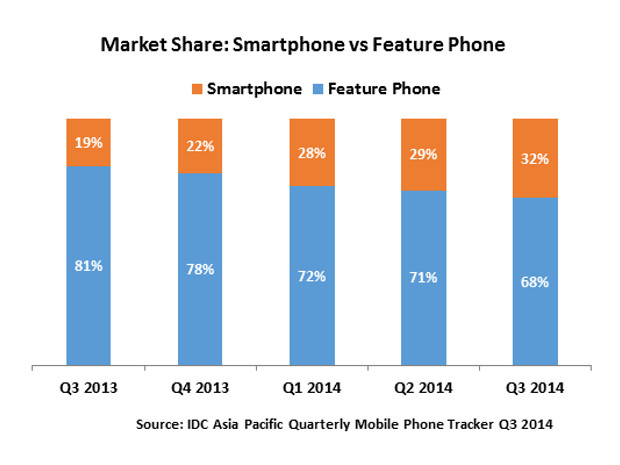 India has emerged as the fastest growing smartphone market in the Asia-Pacific region, according to market research firm IDC. The report suggests smartphone sales in the country registered a 27% quarter-on-quarter growth in Q3, boosted by the demand during the recent festive season.
The share of smartphones in the overall Indian mobile market also hit a record 32% during Q3 of 2014, up from 29% in the previous quarter. The numbers also revealed that smartphone sales grew by 82% during Q3 at 23.3 million units, when compared to the 12.8 million units sold in the same period last year.
Speaking on the trends seen in the Indian smartphone market, Kiran Kumar, Research Manager at IDC, said, "With 6% contribution in the overall smartphone market, "Phablets" (5.5 - 6.99 inch smartphones) are observed to be hitting a plateau. On the other hand smartphone with screen size between 4.5 inches and 5.5inches are seen as the sweet spot for consumer preference."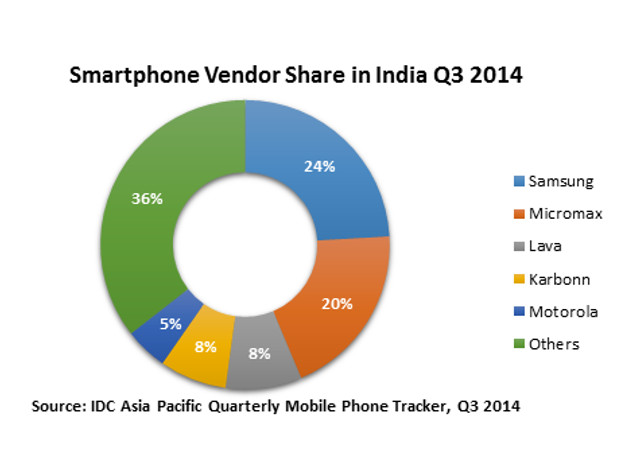 Other stats reveal that Samsung continues to lead the smartphone market in India, with a market share of 24% during Q3. The company did witness an increase in smartphone shipments during the quarter, but growth was much lower than the industry average.
Indian smartphone giant Micromax managed to increase its market share from 18% in Q3 to 20% in Q4, ushering in another quarter of strong growth for the company. Lava too was one of the fastest growing brands in the smartphone space, and controlled 8% of the market during the quarter.
Karbonn came in at the fourth spot, and controlled 8% of the smartphone market during Q3. What's surprising is that IDC found 85% of the company's sales came from its sub-$100 smartphone lineup. Motorola came in at a strong fifth, controlling 5% of the market, thanks to the success of its second gen MotoG and MotoX smartphones.
Further, IDC predicts the smartphone market to grow sequentially through the last quarter of 2014 and calendar year 2015. The company expects smartphones with larger screens to find favor among Indian consumers, especially with the growth of high speed 4G networks that facilitate media consumption on mobile.
TAGS: Indian Smartphone Market, Samsung, Micromax, Lava, Karbonn, Motorola