Samsung And Microsoft Could Soon Launch 13-Inch Monster Tablets | TechTree.com
Samsung And Microsoft Could Soon Launch 13-Inch Monster Tablets
With the success of Microsoft's Surface Pro 3, everyone seems to want in on the big tablet game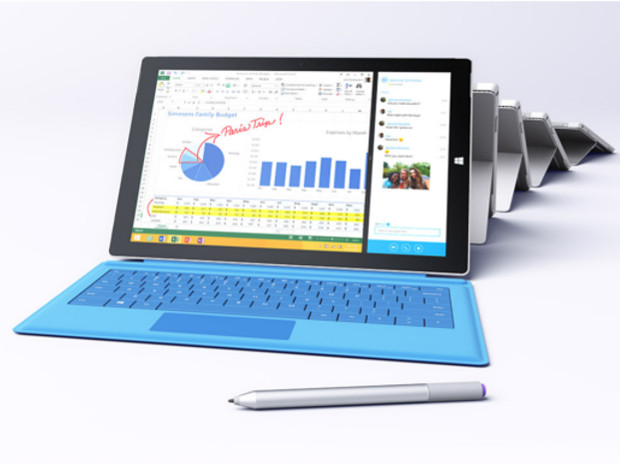 Following the success of Microsoft's Surface Pro 3, rumors from Korea suggest that even Samsung is planning on introducing a 13-inch tablet in the near future. The device will supposedly use an LCD display as opposed to the Super Amoled screens Samsung uses on its Galaxy Tab S series, and could be launched before the end of this year.
The report comes at the same time as news of Microsoft working on a larger 13 or 14-inch version of the Surface Pro, to better serve business users. Both companies seems to be simultaneously on tablets with screens larger than the Surface Pro 3's 12-inch one, but the trend for larger tablets doesn't seem to be restricted to them alone.
Microsoft reported a 127% year-on-year growth in revenues of its Surface tablet business in the July-September quarter, powered by the success of the Surface Pro 3. With sales of traditional laptops and PCs continuing to fall, the market for hybrid devices such as the Surface Pro are growing at a rabid pace, filling the void in the overall PC market.
Sony and Apple too are rumored to be building larger 12-inch tablets, to cater to enterprise and business market that is currently split between using laptops or devices like the iPad Air. The reason Microsoft has hit the jackpot with the Surface Pro 3 is its offering of desktop level computing power, with most of the conveniences of owning a tablet.
Moreover, as the market for small 7-inch tablets is being eroded by larger smartphones, manufacturers seem to be diverting their focus on larger tablets that are focused at productivity. It is yet to be seen if Samsung actually launches a large 13-inch tablet, but it will be interesting to gauge the company's software preferences and other hardware for the device.
TAGS: Samsung, Microsoft, Tablets, Surface Pro 3, Apple, iPad Pro