Flipkart Adds Android Wear Support For Its Smartphone App, But Why? | TechTree.com
Flipkart Adds Android Wear Support For Its Smartphone App, But Why?
All users will be able to do is view their wishlists and the odd notification right from their wrists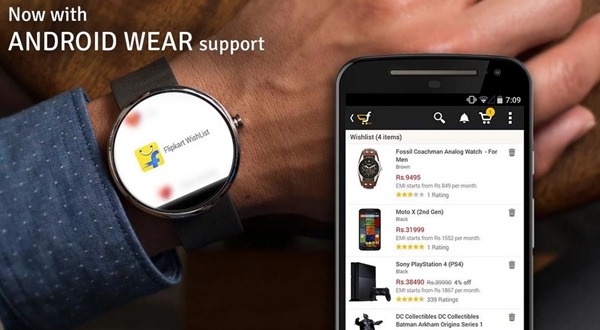 Indian e-retail company Flipkart is banking on its technological prowess to get ahead of its rivals, including American giant Amazon. The company has now become the first e-commerce player in the country to out Android Wear support for its mobile app, pushing notifications right to a users wrist.
For now users will only be able to view their wishlist and the odd notification right from their Android Wear devices, but the company plans to enhance their use of the platform in the future. Information related to order tracking and notifications on price drops are among the features we could see in the near future.
Users will have to download the latest version of Flipkart's app from the Play Store in order to turn on support for Android Wear devices. Moreover the company has also used this as an opportunity to roll out a few new features for its mobile app, including a refreshed UI, and enhanced search to help you find the right products.
The smartwatch market is still at a nascent stage of growth, and it needs as much support from app developers and manufacturers until a strong use case is built. While it's great to see Flipkart experimenting with new things, getting push notifications related to orders isn't something you'd want to do with a smartwatch.
Moreover, the market for smartwatches in India is almost non-existent, eliminating the use of Flipkart's Android Wear app to a very niche segment. The app currently doesn't do enough to find space on a user's wrist, a very valid argument a lot of people have been using to shun the concept of a smartwatch itself.
TAGS: Flipkart, Android Wear, Apps, smartwatch