SEL Shows Off A 3-Fold Touch Display That Sports 1080p Resolution | TechTree.com
SEL Shows Off A 3-Fold Touch Display That Sports 1080p Resolution
While we have yet to see such displays in tablet applications, it surely cannot stop us from dreaming on about them.
While Samsung did show off a couple of flexible displays at CES 2013 in Las Vegas, it clearly did not specify any resolution and more importantly, touch sensitivity for applications. Well Semiconductor Energy Laboratory (SEL) Co Ltd has exhibited a newer version of their earlier flexible display and it comes with a resolution of 1920 x 1080 pixels, and can be folded into three as well.
The display was demoed at the Display Innovation 2014 in Yokohama Japan and is basically a newer version of the display that was unveiled at the SID 2014 event. The earlier display sported 720 p resolution and was 5.9 inches in size. The new display measures 8.7 inches and sports a Full HD resolution along with a capacitive layer for touch.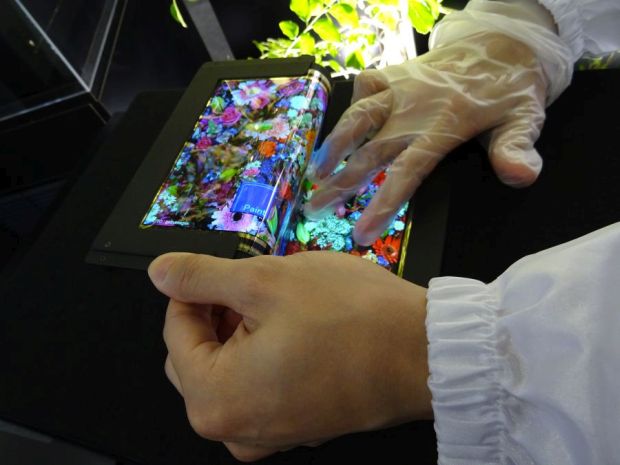 If that was not impressive enough, you do have to remember that this a flexible, foldable display. Meaning that it can be folded and the bends can be limited to just 2-4 mm. The display on demo could be folded into three and does look impressive considering that this an AMOLED display after all. When will we see such displays hitting production? Well, that would depend on manufacturers to adapt such technology into their products. Looks like you will be able to fold that 6 inch phablet into a 2 inch one pretty soon.

Source
TAGS: Displays, Mobile Phones, Tablets, Hardware