Gmail 5.0 Is Here! Featuring Material Design & Exchange Support | TechTree.com
Gmail 5.0 Is Here! Featuring Material Design & Exchange Support
While the update will hit the Play Store in the next few days, you can download the Gmail 5.0 APK right now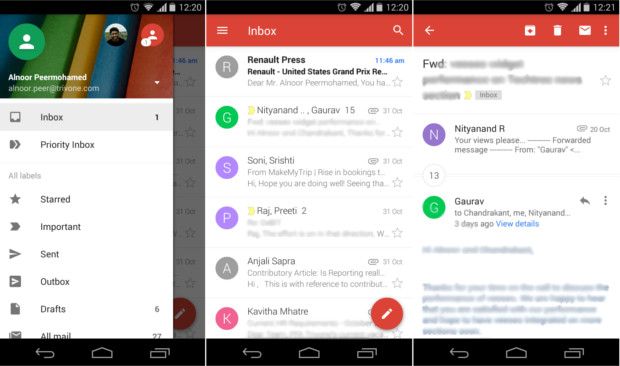 Google has been slowly but surely rolling out updates for its apps and services, bringing them up to speed with its new Material Design philosophy. Gmail is next in line to be refreshed, and while the update will make to the Play Store in the next few days, if you're a bit impatient the APK is available for download right now.
Apart from the most obvious design change, Gmail 5.0 brings support for other services such as Yahoo, Outlook and any IMAP – or exchange-based email service. While the new Gmail app isn't a rethink of email like what Google Inbox is getting at, it's refreshing enough for regular users to count as a big update.
Android Police has links to the Gmail 5.0 APK, which you can find here, but in order to enable Exchange support, you'll be required to download both the APKs listed on the page. Moreover, the files are signed by Google, and the cryptographic signatures are guarantee that they haven't been tempered in any way.
It isn't clear which versions of Android will support Gmail 5.0 yet, but a few early adopters have installed it on devices running Ice Cream Sandwich. We installed the update on devices running the Android 4.4.4 KitKat update, so we're pretty sure it'll work on any device running the in-between versions of Android.
TAGS: Google, Gmail 5.0, email client, Android, Material Design