Snapdeal Raises $627mn In Latest Round Of Funding Led By SoftBank
That puts the total funds raised by the Indian e-commerce startup in 2014 alone to nearly $1 billion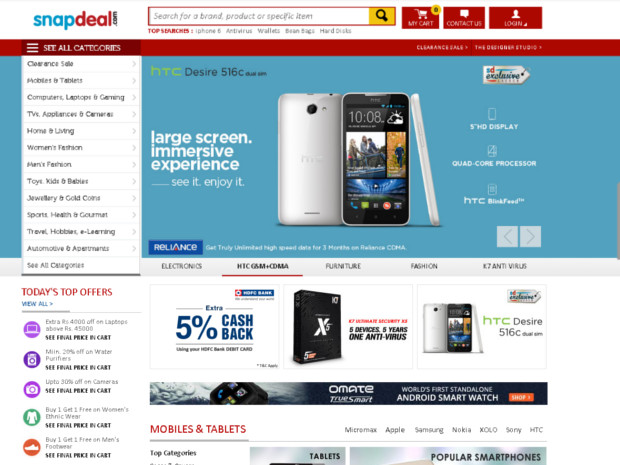 Indian e-commerce startup Snapdeal has just raised $627 million in the latest round of funding, led by Japan's SoftBank Corp. The four old company is among the largest online marketplaces in India, and along with the latest cash infusion brings the total funding raised by Snapdeal in 2014 alone to nearly $1 billion.
The cash will allow Snapdeal to continue growing its business both organically and inorganically - through acquisitions, and help stay in the Indian e-commerce race. Flipkart recently made headlines after raising $1 billion in funding, only to be overshadowed by Jeff Bezos' announcement of investing $2 billion in Amazon.in.
SoftBank has been instrumental in making investments in the global e-commerce space, with its greatest ever investment being the $20 million (valued at over $75 billion now) it invested in Alibaba. The firm is hoping to see great results (even if not in line with Alibaba's achievements) in the Indian e-commerce space, who's growth is expected to compound many times in the next six years.
"We had a lot of demand from investors," said Kunal Bahl, CEO of Snapdeal. "We were very clear that SoftBank was the partner that we wanted. We wanted a partner with a long horizon and SB demonstrated that with Alibaba, which went public 16 years after they invested. This was a real meeting of the minds and a deep philosophical investment."
Apart from the $627 million raised from SoftBank, it is expected that a few other undisclosed investors who pumped in even more cash into the startup's coffers. There are even rumors of China's Alibaba making direct investments in Snapdeal, and while these reports cannot be corroborated, Bhal was more than happy to sing praise about Alibaba's business model and achievement.
Investments in Indian e-commerce are expected to only grow, despite many parties raising concerns over questionable business practices. E-retail makes up just 0.5% of the total retail market in India, while in a country like China that figure is closer to 10%. Everyone is expecting Indian e-retail to get there, and while developed markets are seeming more and more saturated, businesses in developing countries are prime targets for VCs.
TAGS: Snapdeal, E-Commerce, SoftBank, Internet