Apple's OS X Yosemite Software Is Now Available For Download | TechTree.com
Apple's OS X Yosemite Software Is Now Available For Download
An all-new look and some great new features, rolling out for free to all Mac users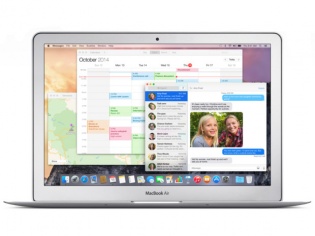 Apple has finally made its latest Mac operating system – OS X 10.10 Yosemite – available for download, following the software's launch alongside the iMac with Retina Display yesterday. The company had previewed the OS back in June at WWDC, giving us a clear outlook of what to expect from the latest OS X build.
The launch marks ten years since Apple first unveiled OS X to the world, and while it's only an evolution of the previous version, it does feature an all-new look. Early testers revealed that OS X Yosemite functions almost exactly like last year's release, but comes with an improved tool bar, notifications center and a dark mode.
One of the biggest new additions however is Continuity, which will allow users to seamlessly switch between using their iOS device and Mac. It works by pairing the PC to either the smartphone or tablet or both, and the devices then constantly communicate with each other to let you for instance continue typing out the mail on your Mac that you started on your iPad.
OS X Yosemite also synchronizes to iOS through AirDrop file sharing, iMessage messaging and even allows taking phone calls right from the desktop. Apple isn't trying to merge OS X Yosemite and iOS in the way that Microsoft wants all devices to run on the same software, but is finding ways to make them work as one.
Apple isn't a very big player in the global PC market, with a share of just 6 percent according to research reports. However, given the Macs premium pricing, it is estimated that the company controls nearly 50 percents of the profit in the PC market. OS X Yosemite will enhance Apple's position in the PC market, by driving iPhone and iPad users to trade in their PCs for a Mac.
TAGS: Apple, OS X Yosemite, iOS, Mac