Lenovo Launches Yoga Tablet 2 With Android 4.4 And Windows 8.1 Options | TechTree.com
Lenovo Launches Yoga Tablet 2 With Android 4.4 And Windows 8.1 Options
An elegant yet functional design along with the right price tag will make this a great competitor for the tablet market.
Lenovo has finally launched its Yoga Tablet 2 series of tablets that are powered by Intel chipsets. The tablets are priced in the mid-range and come with a beautiful and functional design that will make them perfect for everyday use.
To begin with, lets make it pretty clear that these are not one of those dual boot monsters like ASUS' Transformer series. These are basically four variants in total; an 8 inch and a 10 version powered by Android KitKat 4.4 and an 8 inch and a 10 version running Windows 8.1 inside. Lenovo seems to have made a smart choice by picking the quad-core Intel Atom Z3745 Processor that is compatible with both Android and the Windows OS.
What is special here is indeed the design. There is the new hang mode and while the 10 inch versions of both tablets come with the Clamshell Bluetooth keyboard dock, the 8 inch models leaves you just with the the touch screen to type with.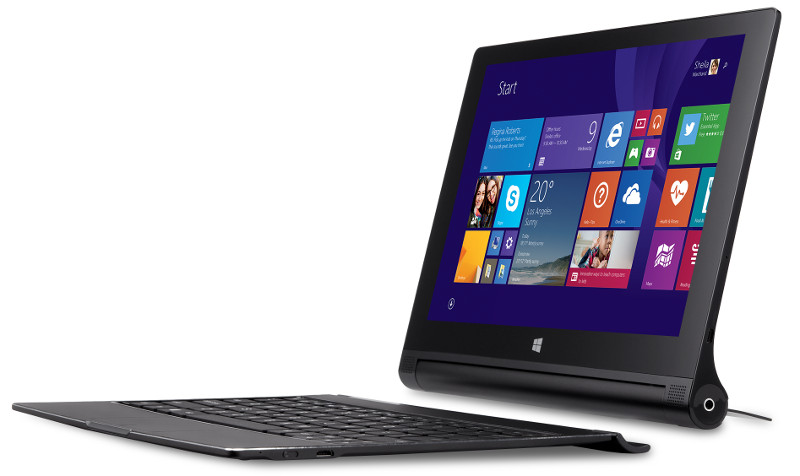 As for the specs they are pretty similar with minor variations for all 4 models; the only change being the display, that is an 8 inch one on the smaller tablet while the bigger model gets a 10 inch one. There is also the larger battery which makes use of the bigger real estate.
As for the hardware specifications, they are as follows:
There is an 8-inch (1920 x 1200 pixels) (10 inch for the larger variant) Full HD IPS display with 10-point multi-touch and a 178-degree wide viewing angle
At the heart we have a quad-core Intel Atom Z3745 processor (that boosts all the way up to 1.86 GHz) with 2 GB of LPDDR3 RAM and 16 GB internal memory that is expandable up to 64 GB
We get an 8 MP auto focus rear camera with an f2.2 wide-aperture lens on the back while the front gets treated with a 1.6 MP HD module
The tablet comes with WiFi 802.11b/g/n (2.4 and 5 GHz), Bluetooth 4.0 and Lenovo also delivers USB (OTG)
There is a 6400mAh battery with up to 18 hours of usage on the 8 inch models while the 10 inch models gets a bigger 9600 mAh capacity with up to 15 hours of usage
As of now Lenovo only has the Android tablets up for sale on Flipkart where the tablets will be exclusively sold. As for the pricing,
Device Price
Lenovo Yoga Tablet 2 (8-inch) Android Rs. 20,990
Lenovo Yoga Tablet 2 (10-inch) Android Rs. 28,990
Lenovo Yoga Tablet 2 (10-inch) Windows Rs. 34,990
Lenovo has not yet released pricing information about the 8 inch, Windows 8.1 powered tablet yet.
TAGS: Tablets, Android, Windows, Lenovo, Lenovo Yoga Tablet 2