Dell Launches The Inspiron One 2320 PC | TechTree.com
Dell Launches The Inspiron One 2320 PC
Stylish desktop PC comes with 23" Full HD touch and non-touchscreen options.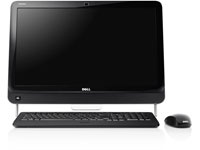 Dell has announced the Inspiron One 2320, which is the newest in its range of 23" all-in-one desktop computers, to deliver edutainment for the entire family. Dell is targeting the entire family with this new offering by stating that it can be used to watch a movie, read a recipe, or do homework.

The Inspiron One 2320 comes with a 23" large Full HD screen with optional touch support. The entire PC is encompassed in a 68 mm thin body (66.5 mm for non-touch model) which includes the display, giving it stylish and sleek looks with the glossy black front bezel. The wireless mouse and keyboard free you from a desktop cluttered with wires. It is powered by Intel Core i3 and i5 processors, but a Core i7 version will also be made available in a few weeks for those who want a really powerful computing machine. With 2 GB RAM expandable to 8 GB, it comes with a 500 GB SATA 3.0 hard drive expandable to 1.0 TB.

Moderate gaming is possible on this PC, thanks to the NVIDIA GeForce GT525M discrete graphics inside, which also offloads HD video tasks from the CPU. You can watch Blu-ray movies on this computer, thanks to the Blu-ray combo drive present in the slim body if you opt for one, in lieu of the standard DVD writer. JBL-branded internal speakers claim to provide a good audio experience. An optional TV tuner is also available to be able to watch and record TV programs. An HDMI-in port lets you connect external media players, gaming consoles, or even set-top boxes to be able to use with the display. Video conferencing option is available via a 2.0 MP webcam. Other features include Wi-Fi, Bluetooth, optional Intel Wireless Display (Wi-Di), and 8-in-1 media card reader.




Available for a starting price of Rs 35,000 for the base configuration, the Inspiron One 2320 and its variants can be bought online at www.dell.co.in.